Insomnia
(1998)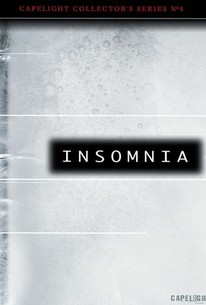 Movie Info
Norwegian filmmaker Erik Skjoldbjaerg makes his directorial debut with the psychological police drama Insomnia. Swedish homicide detective Jonas Engström (Stellan Skarsgård) and his partner, Erik Vik (Sverre Anker Ousdal), arrive in a small Northern Norwegian town to help the local police investigate the murder of a teenage girl. When Jonas finds the girl's backpack, he sets a trap for the killer near a remote shed. While waiting to make an ambush in the morning fog, Jonas accidentally shoots Erik. He knows it was only an accident, but he decides to keep it a secret because he could lose his job. Jonas chooses to carry on with his investigation while trying to cover up the evidence of Erik's death. Meanwhile, he's unable to get any sleep due to the constant sunlight of the Norwegian summer and his increasingly guilty conscience. His only help comes from highly intuitive local police officer Hilda Haugen (Gisken Armand), who begins to form her own doubts about Jonas. As he continues to lose his grip on the case at hand, he becomes dangerously close to the suspects, Jon Holt (Bjørn Floberg) and Frøya (Marianne O. Ulrichsen). Filmmaker Christopher Nolan directed the English-language remake of Insomnia in 2002 with Al Pacino, Robin Williams, and Hilary Swank.
News & Interviews for Insomnia
Critic Reviews for Insomnia
Audience Reviews for Insomnia
½
Really didn't enjoy this. It just seemed pointless and drags along at a slow pace. I remember seeing the remake years ago, and I was equally unimpressed by that, Seems to just be my week for dull movies with good casts that I can't otherwise fault past I couldn't wait for them to finish. I couldn't recommend this movie or otherwise. Though I personally found it boring, I can't say that it is not a well made film with some good characters. But it wasn't personally for me.
Nicki Marie
Super Reviewer
It is hard to believe that this is Erik Skjoldbjaerg's first film. It seems like a pro job to me. Very rarely do you get thrillers crafted this well. Almost everything is perfect. The script is as taut as possible. I saw no holes, anyhow. The plot is believable and you will never see the best twists coming. Even if you are the type who sits there and constantly guesses what's coming next during thrillers, I doubt you could. The film does a lot to avoid plot cliches. And if I'm wrong about that, if I was just blinded by other aspects of the film, it won't really matter. The characters are very well written. Especially the main character, played by Stellan Skarsgard. He is certainly one of the best actors working today and this may just be his greatest performance yet. He owns the film. The cinematography is effective. It's bleak and cold. The camera moves assuredly, and it's always where it should be. The music is perfectly subdued. The direction in general is simply amazing. The mise-en-scene is marvelous. I love the settings of the film, the threatening, rocky terrain, the broken and rusty buildings, everything. This is a must-see film. One of the best films of the 1990s.5 Stars 3-1014
Bruce Bruce
Super Reviewer
A paranoid and claustrophobic thriller with many memorable moments. Skarsgard is great in the lead role.
Graham Jones
Super Reviewer
Insomnia Quotes
There are no approved quotes yet for this movie.