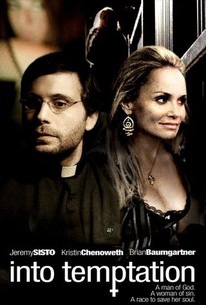 Into Temptation
2009, Drama, 1h 35m
5 Reviews
250+ Ratings
Rate And Review
Movie Info
A priest (Jeremy Sisto) delves into his city's seedier side when he tries to find a prostitute (Kristin Chenoweth) who entered his confessional and told him she was going to kill herself.
Audience Reviews for Into Temptation
I really, really liked this movie. Jeremy Sisto does a very good job. This is one of those movies that I never even heard of, but it turned out to be VERY interesting.

Heartbreakingly sad film about a woman seeking absolution from a priest unable to give it. Powerful emotions are in play with this multi-layered story that easily could have slid into a lurid sex tale but managed to stay above the fray. Explores the power of forgiveness and random acts of kindness that can change lives. Jeremy Sisto as the jaded priest who finds new purpose and Kristen Chenowith as the young woman were superb. The supporting cast performed ably and the dark streets of Minneapolis served as the backdrop for this morality tale. Surprisingly well done, and extremely tasteful, respectful treatment of a very sensitive subject. Wow!

Quite a decent movie, but I just felt that it was lacking something. The plot is intriguing enough, not fantastic, but intriguing. But in John's search for Linda, nothing really happens to be honest. It's just like "go here, talk to this person, this person tells me to go see this other person, then this other person tells me to talk to this woman at a store". It's a very formulaic movie, in fact it reminds me of Law and Order, which Jeremy Sisto is a cast member of ironically, Law and Order is a very formulaic show, you won't see them going too far away from the formula and I guess it works, but in the end it's just a very boring and uninteresting show (in my opinion) and it's the same thing with this movie. It's just boring, I don't know what could have been done to make this movie better, to be honest. Not to shit on the movie, I thought it had some solid performances, but nothing outstanding, and I do think that the movie has a nice message at the end. The way I see it, the movie is trying to say that John, in a very indirect way, saved Linda's life (though there's no confirmation to one side or the other) even though John won't probably ever find out. So yea I thought the message of the movie was nice, but in the end this is just an average and fairly unimpressive movie.
See Details