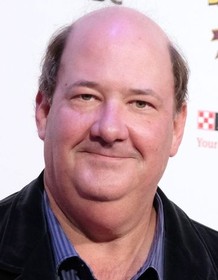 Brian Baumgartner
Highest Rated: 80% Into Temptation (2009)
Lowest Rated: 7% License to Wed (2007)
Birthday: Nov 29, 1972
Birthplace: Atlanta, Georgia, USA
Living out the character actor's arc, Brian Baumgartner enjoyed a life in the theater far from Hollywood, long before he slogged his way to success through bit parts on television. Playing a series of emotionally-charged characters on midwestern stages for years, the actor eventually found the onscreen role of a character actor's dreams - turning the tall, rumpled schlep Kevin Malone of NBC's American version of "The Office" (2005-13), into a front and center presence audiences and real-life office workers could not forget, but would probably very much like to ignore.
Photos
Brian Baumgartner
Brian Baumgartner at arrivals for Derek Jeter Celebrity Invitational Gala, ARIA Resort & Casino, Las Vegas, NV April 19, 2018. Photo By: JA/Everett Collection
The Office, from left: Rainn Wilson, Ed Helms, B.J. Novak, Brian Baumgartner, 'The Inner Circle', Season 7, Ep. #23, 05/05/2011, ©NBC
LICENSE TO WED, John Krasinski (left), Brian Baumgartner (center), 2007. ©Warner Bros.
The Office, Brian Baumgartner, 'Costume Contest', Season 7, Ep. #6, 10/28/2010, ©NBC
The Office, Brian Baumgartner, 'Costume Contest', Season 7, Ep. #6, 10/28/2010, ©NBC
The Office, Brian Baumgartner (L), Ed Helms (C), Craig Robinson (R), 'The Inner Circle', Season 7, Ep. #23, 05/05/2011, ©NBC
The Office, from left: Brian Baumgartner, Kate Flannery, Phyllis Smith, John Krasinski, Rainn Wilson, Oscar Nuñez, Angela Kinsey, Jenna Fischer, Mindy Kaling, 'The Incentive', Season 8, Ep. #2, 09/29/2011, ©NBC
The Office, Brian Baumgartner, 'Crime Aid', Season 5, Ep. #5, 10/23/2008, ©NBC
The Office, Brian Baumgartner (L), Amy Ryan (R), 'Crime Aid', Season 5, Ep. #5, 10/23/2008, ©NBC
The Office, from left: Steve Carell, Mindy Kaling, Leslie David Baker, Brian Baumgartner, Rainn Wilson, Andy Buckley, 'Crime Aid', Season 5, Ep. #5, 10/23/2008, ©NBC
The Office, Brian Baumgartner, 'Finale, Part 1 & 2', Season 9, Ep. #23, 05/16/2013, ©NBC
The Office, Brian Baumgartner, 'Secret Santa', Season 6, Ep. #13, 12/10/2009, ©NBC
Law & Order: Special Victims Unit, Danny Pino (L), Brian Baumgartner (R), 'Thought Criminal', Season 15, Ep. #23, 05/14/2014, ©NBC
The Office, Leslie David Baker (L), Brian Baumgartner (R), 'Promos', Season 9, Ep. #18, 04/04/2013, ©NBC
The Office, from left: Kate Flannery, B.J. Novak, Leslie David Baker, Mindy Kaling, Phyllis Smith, Paul Lieberstein, Jenna Fischer, Angela Kinsey, Brian Baumgartner, Rainn Wilson, 'Grief Counseling', Season 3, Ep. #4, 10/12/2006, ©NBC
The Office, from left: Kate Flannery, Mindy Kaling, Phyllis Smith, Steve Carell, Brian Baumgartner, Jenna Fischer, 'Grief Counseling', Season 3, Ep. #4, 10/12/2006, ©NBC
The Office, from left: Kate Flannery, B.J. Novak, Mindy Kaling, Rainn Wilson, Brian Baumgartner, Jenna Fischer, Angela Kinsey, Creed Bratton, 'Grief Counseling', Season 3, Ep. #4, 10/12/2006, ©NBC
The Office, Brian Baumgartner (L), John Krasinski (R), 'Sabre', Season 6, Ep. #15, 02/04/2010, ©NBC
The Office, Brian Baumgartner (L), Rainn Wilson (C), Andy Buckley (R), 'Couples Discount', Season 9, Ep. #15, 02/07/2013, ©NBC