Ordinary World
(2016)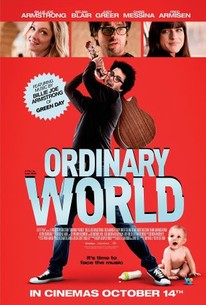 Movie Info
Billie Joe Armstrong leads an all-star cast in the candid and heartwarming comedy, Ordinary World. Perry (Armstrong), a former punk rocker, is ten years into his band's "indefinite hiatus" and is struggling with his adjustment to the real world, which includes working in his family's hardware store. When Perry's hotshot attorney wife (Selma Blair) and precocious young daughter forget his 40th birthday, his brother (Chris Messina) takes pity and gives him the money to throw a huge rockstar blowout in a fancy New York hotel. At the party, Perry's punk past clashes hilariously with his grown-up reality as he encounters crazy former bandmates, including best pal Gary (Fred Armisen), and an old-flame-turned-manager (Judy Greer), who offers him a chance to revive his stalled career, all in one outrageous day!
News & Interviews for Ordinary World
Critic Reviews for Ordinary World
Audience Reviews for Ordinary World
The casting of the Green Day front man was an intriguing idea and while skeptical at first, my fears were squashed within the first 20 minutes. The main issue with the film is the lack of depth and it tries to be too commercial, I think a darker more personal story was the direction to go. I can't fault the actors, they have interesting roles and they give each supporting role something unique. The film is short and at times frustratingly simple in the storyline, I just had no real investment and felt like the film was too glossy. The producers and director obviously hoped this would appeal to mainstream audiences and I did like the film at certain points, the brother relationship should've been explored for one point. The party scene lacked a negative, the dad missing the talent show as a result of the party was more interesting. The lack of risks and storyline cliches just made this feel like a happy but unrewarding experience. There is a better film here and considering the talent involved, it's a little disappointing. This is an easy to watch film with a good relationship based dynamic with the cast, just don't look for the filmmaker to push the genre. 27-06-2017.
Brendan Nicholls
Super Reviewer
Ordinary World Quotes
There are no approved quotes yet for this movie.