Into Temptation
(2009)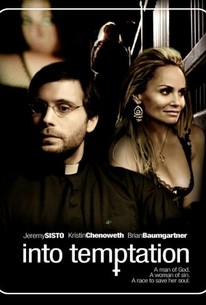 Movie Info
A jaded priest finds hope and redemption in the unlikeliest places in this indie drama from writer-director Patrick Coyle. Jeremy Sisto stars as Catholic priest Father John, who has become complacent in his vocation until the day that a depressed prostitute, Linda (Kristin Chenowith), wanders into his confessional and reveals that she intends to commit suicide on her birthday -- and then disappears. Father John's quest to find and save the woman leads him on a journey into the city's sexual underworld, where he finds help from unexpected sources. Brian Baumgartner (Kevin from The Office) turns in a supporting performance as a fellow priest.
Critic Reviews for Into Temptation
Audience Reviews for Into Temptation
Jeremy Sisto plays an understated priest very well. He seemed comfortable with the faith depicted in the film and I found that refreshing. There is no love for or condemnation of the Catholic Church and that's also refreshing. Into Temptation (a bad title by the way) shows the Church plays an important role in people's lives and priests struggle with duty, obligation, loyalty, politics like everyone else but with a higher purpose. I had not planned to watch this movie but was drawn in when it came on after something else I watched on cable. I hadn't even planned to watch another movie so that tells you something about it's intrigue. It's very good.
Barbara Collins
I really, really liked this movie. Jeremy Sisto does a very good job. This is one of those movies that I never even heard of, but it turned out to be VERY interesting.
Cynthia S.
Super Reviewer
Heartbreakingly sad film about a woman seeking absolution from a priest unable to give it. Powerful emotions are in play with this multi-layered story that easily could have slid into a lurid sex tale but managed to stay above the fray. Explores the power of forgiveness and random acts of kindness that can change lives. Jeremy Sisto as the jaded priest who finds new purpose and Kristen Chenowith as the young woman were superb. The supporting cast performed ably and the dark streets of Minneapolis served as the backdrop for this morality tale. Surprisingly well done, and extremely tasteful, respectful treatment of a very sensitive subject. Wow!
Mark Abell
Super Reviewer
Into Temptation Quotes
There are no approved quotes yet for this movie.
Discussion Forum
Discuss Into Temptation on our Movie forum!