Invasion U.S.A.
(1952)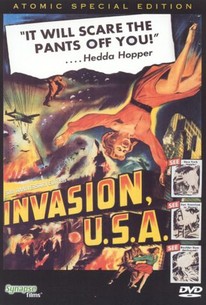 AUDIENCE SCORE
Critic Consensus: No consensus yet.
Movie Info
The "Red Scare" of the early 1950s was exploited for cinematic purposes in the Albert Zugsmith production Invasion USA. As a diverse group of customers in a New York bar discuss politics, a special news bulletin on the bar's TV set announces that enemy troops have invaded Alaska and are heading for the continental U.S. In a panic, everyone rushes home to await his or her fate. Only the mysterious Mr. Ohman (Dan O'Herlihy) reacts calmly to the invasion news, for reasons that are explained at film's end. In the meantime, the enemy not only invades the major cities of America, but simultaneously A-bombs them! Some fairly good special effects occur during the film's climax, enabling the audience to forget the gaping holes in logic that have gone before. When first released in 1952, Invasion USA was advertised by a blurb from columnist Hedda Hopper, who promised "It'll scare your pants off!"
Critic Reviews for Invasion U.S.A.
Audience Reviews for Invasion U.S.A.
This is probably the strangest robot movie you've ever seen, and not in a good way. Don't see this movie unless you really have a love for movies where robots help take over the world, and even then you've been warned how bad this movie is.
Oh lord, where to begin...well uh, in this 1950's right wing propaganda film (brought to you in part by the military industrial complex) we are shown a frightening parallel reality where the U.S. is invaded by hoards of godless commies all because the government was irresponsible and refused to increase defense spending. NOOOOOoooo! Fortunately for the wholesome and patriotic folk of this land it was all a bad dream induced by a Washington arms lobbyist who hypnotizes a few people enjoying happy hour. I hope you've learned your lesson, Billy. The moment that our tax dollars are spent on things like "tractors" and "food" and "health care" we run the risk of trodding down the unholy path towards communism! That's right, no lunch today, Billy. Get back to welding those tank tracks!
Brett Warren
Super Reviewer
Invasion U.S.A. Quotes
There are no approved quotes yet for this movie.