Investigation of a Citizen Above Suspicion
(2012)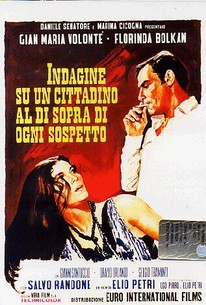 Investigation of a Citizen Above Suspicion Photos
Movie Info
In a time of internal political disturbance, Roman police inspector Gian Maria Volontè (the bad guy in A Fistful of Dollars and For A Few Dollars More) gets that plum assignment: crack down on political dissidents; then proceeds to slash the throat of married mistress Florinda Bolkan ("a beautiful, kinky masochist" - Vincent Canby). But as homicide cops swarm over the murder scene, guess who gets tapped to head the investigation? And, as every clue unearthed - most perversely planted by Volontè himself - leads right back to... is anybody going to do anything about it? As director Elio Petri's split-second edits rocket back and forth between flashback and detection, to the insidious rhythms of Ennio Morricone's score, Investigation becomes a biting critique of Italian police methods and authoritarian repression, a psychological study of a budding crypto-fascist (but is the arrogantly grim-faced Volontè building a case against himself to be punished, or to prove his invincibility?), a probing why-dunnit, and a buildup to a question-stamped finale.-- (C) Official Site
Critic Reviews for Investigation of a Citizen Above Suspicion
Audience Reviews for Investigation of a Citizen Above Suspicion
I was disappointed by the pacing of the film, but more so with its content. It was hardly engaging and often enraging (not owing to the situations in the movie, but due to dull execution). The performances didn't help any to elevate the experience. Boring and avoidable "classic" flick, IMO.
familiar stranger
Super Reviewer
½
Lots of informative special features on this newly released Criterion Collection blue-ray/dvd combo. There's an interview with composer, Ennio Morricone, who wrote a very memorable soundtrack for this picture. There's a documentary about writer/director Elio Petri's career. There's also a documentary about star Gian Maria Volonté. Petri often told stories that were anti-fascist or anti-authoritarian. His movies could get him in trouble with the Italian authorities of the time. Volonté, himself, was active in political protests. He would often march with students protesting the fascist system. In this movie, Volonté plays a role that is completely opposite from who he was in real life. He is a clean-cut police chief who transfers from the homicide division to the political division. Right at the top, he murders his mistress and even plants some clues that could lead back to himself just to prove that he is above suspicion. We see the chief belittling the men who take charge of the homicide division, even as they investigate his murder, and we see the extent of wire-tapping and files kept on subversives in Rome. The chief makes a speech about criminals being the same as subversives. He also says that "repression is civilization!" In flashbacks, we see how the chief met his murder victim. Augusta Terzi (Bolkan) is a kinky fetishist. Talk about Fifty Shades of Grey. Augusta loves to play dominance/submission games. Together, she and the chief, re-enact the crime scenes of murder victims he has found throughout his career. At first, she is submissive. The chief compares the police to God and parents who punish their children. Like Eve in the garden of Eden, Augusta is presented as the evil influence that tempts the chief to commit crimes because he is above the law. Then, suddenly, the chief can't handle it when Augusta reverses her role and begins making him feel inadequate. This is his excuse for murdering her. The chief develops an obsessive neurosis to prove that he is above the law. The surreal ending shows a couple possible outcomes. The police activities are often shown to be hidden underground. The camera often views the action from overhead. It is all quite visceral and it ends with a quote from Franz Kafka.
Byron Brubaker
Super Reviewer
½
Gian Maria Volonté persuasively personifies a suave, spitefully malevolent kind of hitchcockian sociopath. A surreal and strong meditation about how some human beings can be corrupted by power. A fundamental allegory to understand the Italian sociopolitical situation of that time, and possibly to draw parallels with any present so-called democratic system of government.
Pierluigi Puccini
Super Reviewer
Investigation of a Citizen Above Suspicion Quotes
There are no approved quotes yet for this movie.