Irene in Time
(2009)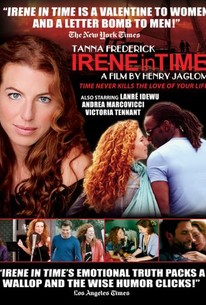 Movie Info
A puzzle about love and time, a mystery in which clues are found and secrets are revealed, Irene in Time is a look at the complex relationships between fathers and daughters and the consequences - years later - on the grown women's relationships to the men in their lives.
Critic Reviews for Irene in Time
Audience Reviews for Irene in Time
½
This film cracked me up - until the end. Irene, played beautifully by Tanna Frederick, is a real nut case, I knew someone like her once - she was hard to take but pople admired the fact that she had so much energy. Anyway, she;s an emotional train wreck of a girl, looking for her lost daddy in all her date and trying to "do it right" by reading all the popular books on dating. Irene In Time is funny and moving in some parts. Victoria Tennant is wonderful as Irene's mom. And you can't lose in a movie that had both David "the Sopranos" Proval and Karen Black.
Carole Barnett
I feel terrible. I know someone who was in this and I still can't give it more than 10%. Dear lord this was the stinker to end all stinkers. In addition to the story being PAINFULLY cliche and corny, it was also PAINFULLY told. The lead actress looks like Eric Stoltz in MASK,...but not as hot. The fact that someone put ANY money into this piece of vanity crap is enough evidence that Hollywood should be shut down for good.
Liz Brown
To paraphrase Dan Akroyd this is "bad cinema" all of my friend unite in speaking ill of it. The director's effort here is just disgusting.
Roger Maris
Irene in Time Quotes
There are no approved quotes yet for this movie.
Discussion Forum
Discuss Irene in Time on our Movie forum!