Isle of Dogs
(2018)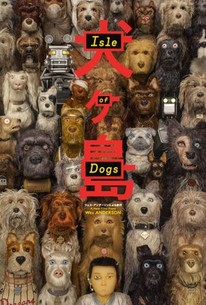 TOMATOMETER
AUDIENCE SCORE
Critic Consensus: The beautifully stop-motion animated Isle of Dogs finds Wes Anderson at his detail-oriented best while telling one of the director's most winsomely charming stories.
Movie Info
In this stop-motion-animated film from writer/director Wes Anderson, an outbreak of canine flu in Japan leads all dogs to be quarantined on an island. A boy (voice of Koyu Rankin) journeys there to rescue his dog Spots (Liev Schreiber), and gets help from a pack of misfit canines who have also been exiled. His quest inspires a group of dog lovers to expose a government conspiracy. The voice cast also includes Bryan Cranston, Edward Norton, Bill Murray, Scarlett Johansson, Tilda Swinton, Bob Balaban, Greta Gerwig, and Yoko Ono.
News & Interviews for Isle of Dogs
Critic Reviews for Isle of Dogs
Audience Reviews for Isle of Dogs
½
After The Fantastic Mr. Fox, Wes Anderson returns to animation with this wild tale of a japanese town banning all dogs to an island and a boy's desperate search for his canine friend. The animated dolls and scenes look absolutely amazing, combined with Anderson's well known screen composition that makes for a treat for the eyes. The voice acting is top notch, as well, combining Anderson's usual suspects with a few newcomers. Sure, the story and attitude feels smug at times, but it's all in good, quirky fun. ONly could have done without the anti-cat-propaganda.
½
Am I the only one who had a problem with a movie about Japanese dogs, all speaking English with American accents. And not a Shiba inu among them?
Nicki Marie
Super Reviewer
The quirky imagination of Wes Anderson and his stylized, symmetrical, painterly approach to filmmaking has always seemed like a natural fit for the world of animation. Stop-motion has a wonderfully tactile and woebegone appreciation that furthermore seems like a natural fit, and 2009's Fantastic Mr. Fox is one of Anderson's best and most enjoyable films. If it were not for the considerable time it takes to make animated films, I'd be happy if Anderson stayed in this realm. Isle of Dogs is about a future where dogs are blamed for an infectious disease and as a result are banned and quarantined to a garbage island off the coast of Japan. One little boy dares to venture to this island to find his beloved missing dog. From there, he's escorted by a pack of dogs, led by Chief (voiced by Bryan Cranston), across dangerous tracks of the island while avoiding the boy's adopted family, the mayor of Nagasaki. This is a whimsical, beguiling, detail-rich world to absorb, but it also has splashes of unexpected darkness and violence to jolt (though the dark turns are consistently nullified). It's a highly entertaining movie although the characters and story are rather thin. The different dogs are kept as stock roles, and the main boy, Atari, is pretty much a cipher for dog owners. However, the film can tap into an elemental emotional response when discussing the relationship between man and dog. If you're a dog person, it's hard not to feel a twinge of emotions when a dog is given a loving owner and sense of family. There is one element of the movie that feels notably off, and that's the fact that the dogs speak English and the local Japanese characters speak their native tongue but without the aid of subtitles. it doesn't exactly feel like Anderson is doing this as a source of humor, but I can't figure out a good alternative reason for it. I'm sure Cranston's distinctive growl would have sounded just as good speaking Japanese. Regardless, Isle of Dogs is a mid-pack Wes Anderson fantasia of inventive imagination and well worth getting lost within. Nate's Grade: B
Nate Zoebl
Super Reviewer
Isle of Dogs Quotes
There are no approved quotes yet for this movie.