Isolation
(2006)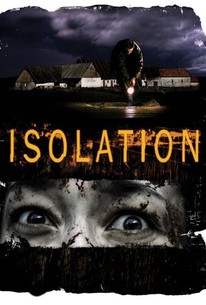 Movie Info
An experiment in bovine genetic modification goes horrifically wrong in writer/director Billy O'Brien's debut feature, Isolation. John Lynch stars as Dan a cattle farmer on the remote Irish countryside, whose ex, Orla (Essie Davis of the Matrix films), a veterinarian, has convinced him to take part in a profit-driven experiment on his cows, run by John (Marcel Iures), an officious scientist who seems very concerned with maintaining secrecy. Orla is conducting a routine check on a pregnant cow, and her hand is inside the animal, checking the unborn calf, when something bites at her. John is called to the farm, and reassures them that the safety checks were all okay. He's more concerned with the presence of a caravan just outside the farm. The caravan is occupied by Jamie (Sean Harris of 24 Hour Party People) and Mary (Ruth Negga of Breakfast on Pluto), a desperate young couple who are apparently hiding out from something. That night, after Orla and John have left, Dan hears his cow wailing. Dan's phone is out, so he reluctantly turns to Jamie for help. After a protracted and painful delivery, Orla turns up, and decides to "shut it all down." She kills the mother and the calf. Examining the calf, she realizes that it was born pregnant, and the "severely malformed" fetuses have distinctly un-cowlike exoskeletons. Unfortunately for all involved, one of the offspring survives, and when John finally shows up, he suggests that the farm be quarantined, as there may be a danger of "infection." Isolation was shown by the Film Society of Lincoln Center as part of the 2006 Film Comment Selects series.
Critic Reviews for Isolation
Audience Reviews for Isolation
A decent Irish chiller clearly inspired by "Its Alive" and "Alien". I enjoyed the earlier stages more. Isolation here lives up to its name -- the dilapidated and perpetually dark cattle farm, the cows in gruesome distress, and messy bloody trauma scenes. Alas, for all that good atmosphere it migrates to the same old critter hunt -- even doing a version of "Aliens" air ducts scene, and then leaving us hanging with an ambiguous ending. yeesh..
Cynthia S.
Super Reviewer
½
A very low budget horror set in Ireland on a farm. Very much like the Thing but on a much smaller scale. Great for a low budget indie film. Slow to start but the second half of the film is quite creepy.
Good old-fashioned monster film from Ireland (with nods to Alien and The Thing) about man's continued meddeling with mother nature--this time cows and wind up with a genetic mutation that looks like something out of the imaginaton of HP Lovecraft as it has no discernable shape or symmetry. No CG, decent amounts of gory stuff, competent cast and a brief running time make it a welcome addition to the monster mayhem genre.
A.D. Villarreal
Super Reviewer
Isolation Quotes
| | |
| --- | --- |
| Orla: | It's a fetus, Dan. The calf is pregnant. Fuck! This is unbelievable. They're completely malformed. The bone structure's gone haywire. The skeleton's on the outside. |
| | |
| --- | --- |
| Orla: | (on the phone) John, we have to shut it all down. It's gone wrong. |
| Orla: | [on the phone] John, we have to shut it all down. It's gone wrong. |
| | |
| --- | --- |
| John: | That's impossible. My cells,it's corrupting them. The creature can infect humans. It's the bite. we have to stop it getting off the farm. |
| | |
| --- | --- |
| John: | This rate of cellular growth is off the scale. There are human cells mixed up with it. Orla's cells. |