It Might Get Loud
(2009)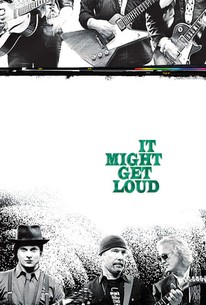 TOMATOMETER
AUDIENCE SCORE
Critic Consensus: An affectionate tribute to rock's most distinctive instrument, It Might Get Loud is insightful and musically satisfying.
Movie Info
Rarely can a film penetrate the glamorous surface of rock legends. It Might Get Loud tells the personal stories, in their own words, of three generations of electric guitar virtuosos--The Edge (U2), Jimmy Page (Led Zeppelin), and Jack White (The White Stripes). It reveals how each developed his unique sound and style of playing favorite instruments, guitars both found and invented. Concentrating on the artist's musical rebellion, traveling with him to influential locations, provoking rare discussion as to how and why he writes and plays, this film lets you witness intimate moments and hear new music from each artist. The movie revolves around a day when Jimmy Page, Jack White, and The Edge first met and sat down together to share their stories, teach and play.
News & Interviews for It Might Get Loud
Critic Reviews for It Might Get Loud
Audience Reviews for It Might Get Loud
It is fascinating to see those three rock legends interacting and talking about the electric guitar, their personal stories and what inspires them - and even if it could have benefited from a more linear structure, this insightful documentary never ceases to be interesting.
Carlos Magalhães
Super Reviewer
½
This really had the potential to be something quite special. Unfortunately is come up short, and I was left with a feeling that something was missing. I'll go ahead and admit though that my rating is inflated by an extra half-star, if only for the fact that the musicians here (especially 2 out of the 3) have had a major impact on me personally. What we get is a celebration of the electric guitar by just three players, all of whom, have proven seminal practitioners from their individual generations. I understand that it would be hard to choose three people for this sort of thing, but I'm mostly okay with the selections of Jack White, The Edge, and Jimmy Page. I think it would have been cool had they included someone such as Tom Morello, though, as his story and impact are just as important. Maybe they should have done what they did with The Other F Word, and have the primary focus be on one person, but with heavy amounts of input from several others. Instead we get a look at how the backgrounds, influences, and experiences of each man affect their crafts and creative processes, all of which culminate in a meeting of the three where they jam and chill with one another. Oddly enough, it's the meeting of the three where the film is at its weakest. None feel all that ease with one another, things are pretty awkward, and there's a missed opportunity to really ask some probing and revealing questions. At times it is neat, but ultimately its very underwhelming. The individual moments with each of them are all pretty good though, and I loved the various techniques used to bring their stories to life, especially the animated stuff. All in all, this is passable, but unfortunately not what it should have been.
Chris Weber
Super Reviewer
This had the potential of being a great documentary. Unfortunately the film lacks something to really make it a great film on the subject. I mean you have Jimmy Page of Led Zeppelin The Edge of U2 in one film; you're bound to get something great between the two. You'll notice I didn't mention Jack White because I really feel he doesn't stand out compared to first two guitar players. White's work doesn't really stand out in the rock genre. I don't he's a legend or a good player for that matter. I think another veteran of rock music should have taken Jack White's place instead because I feel he really doesn't stand out among the other legends in the genre. As a whole the documentary is interesting but I feel it lacks what it says it has the history of the guitar from the point of view of the artists. This film instead focuses on the influence of each guitar player, though interesting, they could given a more in depth look at who helped shaped the electric guitar. In the end, this film is just an excuse for the guitarists to tell us how important music is in their lives. Considering that there's some talent here, it would have been interesting to hear about the guitar from their point of view, however they just get into a little bit of it, and I felt that they could have put a lot more effort in the film by having the musicians give us more detail on the guitar. A good film, but it lacks in some areas and I think it's a slight shame considering the talent that talk on the subject.
It Might Get Loud Quotes
There are no approved quotes yet for this movie.