It's a Free World
(2007)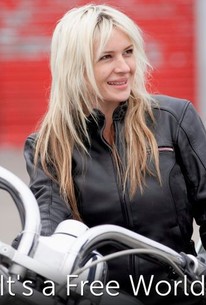 Movie Info
With a central trope that recalls Jerzy Skolimowski's Moonlighting (1982), Palme d'Or winner Ken Loach's ironically titled social-consciousness drama It's a Free World... dissects the problem of exploited immigrant labor from the perspective of one taking advantage. Actress Kierston Wareing stars as Angie, a native of London's East End who works for a shady and sketchy employment agency that predominantly hires illegal Eastern European immigrants. Unceremoniously fired from that outfit, she cooks up the scheme of establishing her own such agency with the help of a roommate, Rose (Juliet Ellis); Angie begins scouting the local factories to recruit cheap labor, while Rose puts up a website and mission statement to give the operation a distinct veneer of class and idealism. As Angie flaunts her body and unabashedly uses the lure of sex to attract new clients and business, she ignorantly fails to acknowledge warnings that she may be headed for dangerous waters. Meanwhile, family problems erupt when Angie's extremely dysfunctional and misguided 11-year-old son, Jamie (Joe Siffleet), gets in trouble for severely beating a classmate, and Angie's unionist father grows utterly horrified when he learns of his daughter's activities.
Critic Reviews for It's a Free World
Audience Reviews for It's a Free World
A good concept doesn't quite work here. I never was taken with the film or the individual performances. Try again.
John Ballantine
Super Reviewer
½
Loach has done it again. The social realism card that he has exploited so well during his career is used to full effect here : his commentary on the issue of immigration is clearly not a 'solution', but rather representation of an issue so vast and exhaustive that, well, you can easily see why no one thinks it's their problem to solve. As so, as our Angie descends deeper into the moral abyss to overcome her own missteps, the tension escalates (mildly). And yet, for a film about illegal immigration, the menace of getting caught is only viewed from afar. Loach is able to convincingly paint a whole world that exists almost solely outside the boundaries of the law-- the legal system has no major dispute with them. The bad news will rather arrive when a gang of payless, desperate employees will begin to apply some pressure on Angie. Violence becomes part of the game. As if it wasn't bad enough, there is also, on a personal level, an eleven-year old child that Angie's parents appear to be raising for her. It's all written in grey spots, colliding with other issues from time to time (yet without fully exploring them, like single motherhood), and in the end, it doesn't feel hopeful at all. Lower-class England is depicted as a constant survival of the fittest; it's a bit of a shame his last third, feeling relevant but meant to be climactic, feels a bit off-track, but the messages pass nonetheless. An inevitable bleak ending also waters down the momentum, and the numerous narrative cuts that give the impression the film would have benefited from another solid ten minutes-- but those are minor complaints. Whatever flaws there might be in the structure are largely compensated by the performances, and Kierston Wareing's fearless take on Angie is about as eye-opening as anything I've ever seen in a cinema in my life. Not that her performance transcends history, but being in litterally every scene, she constantly holds our attention with a presence both reassuring and vulnerable at the same time. I don't know how she manages that, but her character's duality is fully explored, with often compelling results. It's all very, very good, in the end. It's not a major work of art, but as a portrait of troubled times, It's a Free World highlights the fact,even with its title, that there might not be that much freedom left for everyone in our little world...
Laurence Collin
Super Reviewer
½
Not a great film but it's a good example of an insight into illegal work in the UK.
Chris Middleton
Super Reviewer
It's a Free World Quotes
There are no approved quotes yet for this movie.