It's Christmastime Again, Charlie Brown
(1992)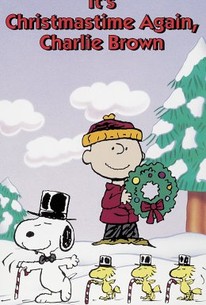 AUDIENCE SCORE
Critic Consensus: No consensus yet.
Movie Info
It's Christmas time again for the whole Peanuts gang. This time around, Sally is all nerves over the upcoming school play where she has to deliver one line, while Peppermint Patty is despondent over being cast as a sheep...again. Meanwhile, Charlie Brown tries to scrounge up enough money to buy that Red-Headed girl a pair of gloves.
Critic Reviews for It's Christmastime Again, Charlie Brown
All Critics (1) | Top Critics (1) | Fresh (1) | Rotten (0)
It's Christmas Time Again couldn't possibly replace the original. But after 27 years, it's a real treat to enjoy the holidays once again with these old friends.
Audience Reviews for It's Christmastime Again, Charlie Brown
Bradley Wright
Super Reviewer
[img]http://www.schatten.info/images/list/easter_mountains_2005/14-campfire.jpg[/img] I saw the Man, once, and this ain't no fib. It was a Tuesday in April, round suppertime, and I was mindin' a few restless colts down at the stable like normal. The blazin' blue evenin' sky was growing bigger, like it was pressin' the prairie further into the earth just to make you notice how purty the clouds were. A fine ruckus was being made in town that eve. The meathouse was slingin' pleasure on a plate, and a herd of buckaroos were all down there gittin' their fill on the finest steak and suds this side of the Rio, not too far from where this story is bein' told. Then, quickly as it takes a man's spit to hit the ground, a cold rolling wind bust loose, and it was mean enough to choke yer bones without spare buckskin jackets lyin' round. All the peaceful trees rustled into these mad glares. A shivery menace closed all the good doors like dominos. It was no night for a beautiful sun to bear witness to. But before it did retreat over that unthreatened horizon, it cast one odd-shaped flaw against it, like some shadowy mole on the bright face of a young southern belle. It was the Man riding in. [img]http://img.photobucket.com/albums/v293/neumdaddy/Story-PrairieSunset.jpg[/img] Just a glimpse of him staggered me like a I was half seas over. He had the stature of a man who deserved to call himself intense. His eyes were sharper than an arrowhead and hotter than hell's breath. [img]http://img.photobucket.com/albums/v293/neumdaddy/Story-eyes.jpg[/img] I took his horse in and played my role of silence like no man has ever played it. He throated somethin' unclear, like a distant purple thunderstorm of a word, but I wasn't sure if it was for me or his horse, so I dared not suggest the feller repeat. It was like askin' a coyote to growl again only louder this time, or a critter similar to those two beasts on his [i]serape[/i]. But, between the chomping of his tiparillo, his eyes had me hogtied already, caught for starin' too long. He muttered more low earthquakes. [img]http://img.photobucket.com/albums/v293/neumdaddy/Story10b-2.jpg[/img] "Fury & Conviction, they are," he said, pointing to the beasts on his shawl. "They're my spiritual legs, and I need 'em like I need my walkin' legs. Took it off the first chef I killed. Killed him with a carrot. Took that off him, too." He gestured to the carrot in his holster. [img]http://img.photobucket.com/albums/v293/neumdaddy/Story12b-1.jpg[/img] I could only nod like a dope. He's plumb crazy, I thought. One deranged longrider. ...the sam hill? A carrot?! It was then my eyes took notice to what he was fixing on his vest, and all the horrifying details of his complete appearance. There was...some kinda badge... [img]http://img.photobucket.com/albums/v293/neumdaddy/Story-Badge.jpg[/img] [img]http://img.photobucket.com/albums/v293/neumdaddy/Story-Tobacco.jpg[/img] Heeled to the duds with dangerous veggies. And, there was something else... [img]http://img.photobucket.com/albums/v293/neumdaddy/Story17b-1.jpg[/img] Ah I couldn't see it so good. C'mon you darn eyes, [i]look![/i] [img]http://img.photobucket.com/albums/v293/neumdaddy/Story18b-1.jpg[/img] Was that dry blood I saw? On...a spatula? The sick sight lured me to error once again, as the Man caught my wandering eyes and punished me with his voice. "One utensil fer every meat-eatin' sonuvab*tch chef I done killed. Pried outta their cold fingers. 'Less they convert, ya know. Personal crusade a' mine. I tried bein' tolerable once. Didn't like it. So it comes down to choice." He paused, as if lookin' back on a score a' bloodstained memories. "But I keep these har trophies to expose the yella of the bellies of my prey. Scare 'em 'fore I kill 'em. Pretty good story behind that ladle, but if you hear it, you'll be dead. Say, boy, you like winter squash with mushroom pilaf?" [img]http://img.photobucket.com/albums/v293/neumdaddy/Story15b-2.jpg[/img] I blinked. My nerves were too caught up in a bear trap to get my voice a-workin', but finally did I summon somethin' pathetic outta the dusty depths of my lungs, hopin' not to light this dynamite's fuse. "Uh, sure thing, mister." He could see right through me. I felt like a three-legged buffalo running for his life. Lord, I was done for. "Glazed with a fine hollandaise sauce and slowly roasted over an open pit as delicate as you would handle a babe. Dash a' tarragon n' lemon butter...my oh my. Heaven, boy. Mmmm. Say, you sweatin' drops big as chickpeas. Are you...are you afraid a' me, boy?" If I didn't soil myself right then, it's 'cause the piss froze up outta fear. He wore a deliberate smirk 'tween those handlebars, one you couldn't paint on any more sinister-like. I tell you, I'd a' rather gone swimmin' in a lake full a' rattlers than try to answer that question again. I groped fer composure, n' mustered up another meek response. "Mister, I-I'm just a workin' man..." But he didn't care a lick a' what I had to say. He knew he could intimidate. Hell, he probably made his mama skittish like the dickens the day he was born. The bastard was just toying with me. [img]http://img.photobucket.com/albums/v293/neumdaddy/Story5b-2a.jpg[/img] "See that smokehouse down yonder? The cook there likes to serve Swedish meatballs while whistlin' Dixie all day. Now, if there's two things I hate, boy, it's balls of meat and the Swedish. I may be forced to insert cabbages down his throat, leave 'im cold as week-old asparagus. And take his baster." Here he spat, and mouthed a wad of his vegetarian tobaccy. "Reckon I'll need to make a carcass outta any a' those roostered hicks who wantsta' unshuck his pistol and kick up a row. No amount a' that firewater is gonna give them courage enough. They wanna see some cookin'? They can taste my recipe for dyin'. And it may just taste like eggplant parmesan." He turned to me, at last, and flipped me a mushroom cap. "And maybe, with the cold dead slumps I make in each town, I can turn the world's graveyards inta vegetable gardens. Heck, even rivers die when they shake hands with the sea, boy. Course a' life, course a' death." I think he sighed, but not outta yearning. "A wise man once said that while onions can make people cry, there ain't never been a vegetable invented to make 'em laugh. Soon as I find one, I may have reason to educate the masses...instead a' killin' 'em. I intend on findin' it." He flicked his tiparillo by a fencepost and smacked his lips. The man tipped his stetson to me and moved on. Nobody saw him comin'. He was as invisible as darkness. Fact I heard cats tiptoe louder than this madman, but it made no difference. I hid in the stable when it started. Gunshots, ricochets, broken glass, flesh, blood, n' bone spray, and a noise I could only presume to be the repeated blunt clubbin' of his carrot, knockin' the galley west outta those sinnin' carnivores. Ol' Crotter the cook got the cabbage treatment alright. Damn shame, 'cause I loved those meatballs a' his. Smokehouse had a room full of men with coppers over their eyes and cucumbers jabbed in their jowls. The Man made sure that greens, not meat, were the last thing to pass through their throats. Fitch Calvin, the gravedigger and a vegeterian (by pure coincidence), had himself a busy week at the bone orchard after that. Lonesome he came, lonesome he rode on, cov'rin' the whole frontier on his mad quest, never to be fulfilled. Some say he roams in the flatlands of Oklahoma today, others think he dwells in the sunflower fields a' Kansas. And still others don't believe the legend at all. But I know the truth. There is a Man. Whether he is the wind or the dust floating upon it, he is out there, somewhere, fighting, unleashing his wrath upon some poor meat-eating chef with a heartful of stampeding rage and a fistful of cauliflower. [img]http://img.photobucket.com/albums/v293/neumdaddy/Story-WantedPoster.jpg[/img]
Neum Daddy
Super Reviewer
It's Christmastime Again, Charlie Brown Quotes
There are no approved quotes yet for this movie.