Muri shinjû: Nihon no natsu (Japanese Summer: Double Suicide)
(1967)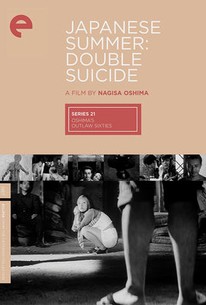 AUDIENCE SCORE
Critic Consensus: No consensus yet.
Movie Info
A sex-obsessed young woman, a suicidal man she meets on the street, a gun-crazy wannabe gangster-these are just three of the irrational, oddball anarchists trapped in an underground hideaway.
Critic Reviews for Muri shinjû: Nihon no natsu (Japanese Summer: Double Suicide)
There are no critic reviews yet for Muri shinjû: Nihon no natsu (Japanese Summer: Double Suicide). Keep checking Rotten Tomatoes for updates!
Audience Reviews for Muri shinjû: Nihon no natsu (Japanese Summer: Double Suicide)
"Japanese Summer: Double Suicide" is almost as strange as its name. A black and white film which would have been better in color (puddles of blood just aren't as shocking when they're not red), this ambiguous drama explores the willingness of men to kill and die for a cause. While adding a squirt of nymphomania for extra flavor. The setting is a metropolitan area which, mysteriously, seems almost deserted. The story opens with Nejiko, an 18-year-old girl with an arty haircut, a low neckline, a short skirt and a dislike for underwear. Actress Keiko Sakurai had only two credits in her career (both Nagisa Oshima films), and presumably won this role based on breast size rather than thespian skills. She's a bit of a liability. Her grating character ("a woman with a loose screw") recently broke up with her boyfriend and is feeling the void. She wants sex. From anyone. She soon meets Otoko (Kei Sato), a quietly intense youth with an odd fixation on caveman-like representations of the human form. A variation on making angels in the snow? Keiko wants his body, but he wants to be rid of it. Permanently. Hence the film's title. The two witness some revolutionaries digging up a box of weapons and are taken prisoner. They find themselves in a secluded barracks with 10 or so men of varying age and histories. The most important of them are a naive student who's overeager to prove himself, an ex-Marine with real killing experience, a man with a portable TV set and an older, philosophical type. Much of the film occurs within a few rooms of this compound. Nejiko, the lone woman, is consumed with two vaginal needs: finding someone to have sex with her and urinating. In almost Bunuel-like fashion, her willing partners are repeatedly interrupted before intercourse can begin. Meanwhile, plenty of grim debate passes between the men about who has the fortitude to kill. Otoko repeats his wish to die. And the television introduces a crucial issue: news of a nearby sniper -- a white American -- who has shot multiple people. The renegades return, and announce that the captives will be given weapons to join the struggle. A newscaster says the scene outside is like "a Japanese Dallas," referencing John Kennedy's assassination. Violence breaks out within the barracks gang. Some of them track down the sniper, but the result is unexpected. Oshima films do tend to end in surreal, allegorical ways. "Double Suicide" is not as structurally daring as some other Oshima works of the period, and the barracks scenes are almost play-like at times. But this more polished style may be a relief to those who found radical films such as "Diary of a Shinjuku Thief" and "Three Resurrected Drunkards" too tiring.
Eric Broome
Super Reviewer
Muri shinjû: Nihon no natsu (Japanese Summer: Double Suicide) Quotes
There are no approved quotes yet for this movie.