Japan's Longest Day
(1968)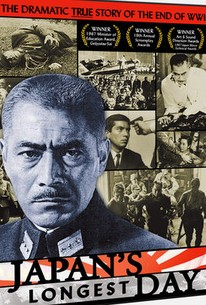 AUDIENCE SCORE
Critic Consensus: No consensus yet.
Movie Info
This star-studded and relatively lavishly produced fact-based war drama, set in 1945 Japan during WW II, chronicles the attempts of Japan's War Minister, (played by Toshiro Mifune), to prevent Emperor Hirohito from publicly broadcasting the declaration of surrender. The War Minister rallies those officers around him who also want to keep the war going. The conspirators murder the leader of the Imperial Guards and storm the palace. Fortunately they are stopped by the palace guard. On learning of this failure, the War Minister commits suicide. At least one Western reviewer of this 1967 film (for Variety) still bore very harsh memories of the war and attributed all sorts of face-saving propagandistic intent by the Japanese to this relatively innocuous movie. He was particularly distressed that the aura of sanctity surrounding the Emperor remained intact and was even enhanced by this film; even so, he praised it as expertly acted and entertaining in its own right, despite being an apparently "official" film. ~ Sandra Brennan, Rovi
Critic Reviews for Japan's Longest Day
There are no critic reviews yet for Japan's Longest Day. Keep checking Rotten Tomatoes for updates!
Audience Reviews for Japan's Longest Day
½
By mid-August 1945 Japan's leaders knew that defeat in the "Greater East Asia War" was inevitable. The fire-bombings of Tokyo, the deployment of atomic bombs against Hiroshima and Nagasaki, and the Soviet Union's entry into the war against Japan underscored this reality. Yet there were two major impediments to Japan's surrender: bureaucratic paralysis and a looming coup attempt from within the armed forces. The first half of Japan's Longest Day chronicles the first of these obstacles with a high degree of historical accuracy (compare with Tsuyoshi Hasegawa's non-fiction book "Racing the Enemy," published in 2005). Chishu Ryu, Toshiro Mifune, and Takashi Shimura, familiar faces from many Yasujiro Ozu and Akira Kurosawa movies, portray members of Japan's divided cabinet with dignity and gravitas. Unfortunately, the second half of the movie unfolds more slowly than the first despite a great deal of shouting and violence during the coup attempt, and the script makes little attempt to situate the would-be army revolt in a philosophical or historical context. The film's final moments slip even further into myopia: Japan's military and civilian deaths are tallied, but no mention is made of the millions of deaths inflicted by Japan's armed forces in Asia. Despite these shortcomings, Japan's Longest Day is well worth watching for those with an interest in Japanese cinema or the end of World War II in the Pacific. 2 1/2 Stars 12-26-13
Bruce Bruce
Super Reviewer
"Japan's Longest Day" is a very suspenseful and detailed movie that recreates the events leading up to Japan's surrender in World War II, starting with the Potsdam Declaration. Japan's response is wait and see, but is misinterpreted as a flat refusal, leading to the atomic bombings of Hiroshima and Nagasaki. Faced with already immense losses in life and property(recalled at the end of the movie), total annihilation and an American invasion, the government and military, with emotions ranging from resignation to revolt, debate about the conditions before going to an imperial council which accedes. At first, it is hard to keep track of all of the players but eventually the plot narrows to a simple focus of one day from August 14, 1945 at noon, to the following day at noon, as a recording is made of the emperor's voice to be played to the public, announcing the surrender while the allies are contacted through intermediaries. On this day, small acts of courage make all the difference. Still, there are some who wish for one decisive battle on Japanese soil(Don't pay attention to the one guy who thinks 20 million kamikazes will carry the day since he's obviously off his meds.). A general counters such thinking by pointing out that it takes more courage to live than to die. A once impossible future full of unknowns, not only consisting of a Japanese military defeat, but also occupation, is now on the horizon for everybody involved. Relax, it all does turn out well for Japan, except for the war criminals.
Japan's Longest Day Quotes
There are no approved quotes yet for this movie.