Jefftowne
(1998)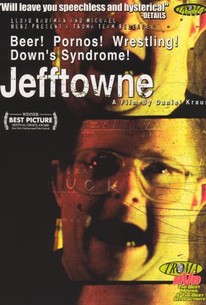 AUDIENCE SCORE
Critic Consensus: No consensus yet.
Movie Info
Jefftowne is a documentary about a man named Jeff Towne. Towne suffers from Down's Syndrome and spends his time watching pornography, drinking beer, and watching professional wrestling. He also spends a great deal of time at a local movie theater where the staff there acts as an extended family. Towne lives with his elderly foster mother who dreams of a cash windfall that will relieve their troubles. The film follows Towne through his unusual day-to-day existence, as well as some unusual events that occur while the cameras are rolling.
Critic Reviews for Jefftowne
There are no critic reviews yet for Jefftowne. Keep checking Rotten Tomatoes for updates!
Audience Reviews for Jefftowne
I really liked this film. I thought it was a decent low budget portrait of one man's life and not at all like the sensational description of it. My biggest problem is that Jeff is not subtitled. It is clear that the people around him can understand him, including the film-maker, so why not help us the audience out. I want to know what Jeff is saying, but because I'm not in the room to question his interpreters every time there is a bit I can't understand, I miss too much. Also quite important is that I entered this film without any knowledge of what Down's syndrome is, and ended it with that same ignorance. I did gleam that Jeff still mostly enjoys the same things any man his age without Down's would also enjoy and that his surrounding friends and family believe him to be cleverer and more capable than his affliction would state he is. A decent little film and quite short, but again my biggest regret is the lack of integrated subtitles which could have enhanced this film so much.
_kelly .King
Super Reviewer
Jefftowne Quotes
There are no approved quotes yet for this movie.