Johnny Stecchino (Johnny Toothpick)
(1991)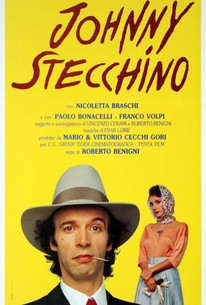 Johnny Stecchino (Johnny Toothpick) Photos
Movie Info
Comedian Roberto Benigni wrote and directed this Italian farce, in which he stars as Dante, a bus driver who is the exact double of the infamous gangster Johnny Toothpick (Benigni again). After Dante meets Johnny's girlfriend Maria (Nicoletta Braschi), he travels to her Palermo villa, where it quickly becomes apparent that Maria is setting up Dante to take the fall for Johnny's illicit behavior.
Critic Reviews for Johnny Stecchino (Johnny Toothpick)
All Critics (13) | Top Critics (1) | Fresh (6) | Rotten (7)
An enjoyably goofy ganster comedy.

Below average Benigni. Somewhat cute, but Monster is far better.

Amusing, but a far cry from fully utilizing Benigni's comic timing.

Audience Reviews for Johnny Stecchino (Johnny Toothpick)
½
Getting on the mob with humour and flair, after 5 minutes you cannot help but just laugh, if you follow the, a bit, surreal premises. Love it, and Palermo looks quite a lovely city in this movie. Maybe to be seen after the Godfather??
Marco Maurizio Gobbo
½
A brain-dead Italian comedy from the famous Roberto Benigni, I watched it as part of my Italian class. I thought Life is beautiful was all right, so I was interested to see what Benigni would be like in a more traditional comedy. Sure enough, Benigni remains a pretty fun and energetic performer, the problem is that the rest of this movie is amazingly dumb. The jokes are completely lowbrow and the ?plot? is a barebones story that is completely reliant upon Benigni?s character being REALLY stupid. There are a couple chuckles here but as a whole it?s really not worth seeing, it hasn?t been released on DVD in region 1, and I suspect it will stay that way.
A hysterical italian movie that NEEDS to be brought over to DVD. It's a great story and Benigni does a great job with everything. He is astounding. And this movie will keep you in stitches.
Luigi DePasquale
Johnny Stecchino (Johnny Toothpick) Quotes
There are no approved quotes yet for this movie.
Discussion Forum
Discuss Johnny Stecchino (Johnny Toothpick) on our Movie forum!