Joseph and the Amazing Technicolor Dreamcoat
(2000)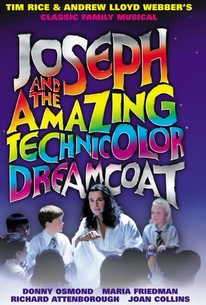 Joseph and the Amazing Technicolor Dreamcoat Photos
Movie Info
Tim Rice and Andrew Lloyd Webber's first musical blockbuster comes to video in this production starring Donny Osmond, who racked up more than 1800 stage performances in the title role. Based on the Biblical story of Joseph and his coat of many colors, in this adaptation Joseph (Osmond) is the favorite son of Jacob (Richard Attenborough), but his siblings resent the attention Jacob showers upon him. Joseph's brothers sell him into slavery, and eventually Joseph finds himself in jail. However, his favorable interpretation of the dreams of the Pharaoh (Robert Torti) win him the admiration of the all-powerful leader, and soon Joseph is one of the most powerful men in Egypt. Shot as a feature film but released directly to video, Joseph and the Amazing Technicolor Dreamcoat also stars Joan Collins as Mrs. Potiphar and Maria Freidman as the Narrator. Composer Andrew Lloyd Webber also served as a producer.
Critic Reviews for Joseph and the Amazing Technicolor Dreamcoat
Audience Reviews for Joseph and the Amazing Technicolor Dreamcoat
ofcourse well i thought it was good great musical funny donny osmond is pretty cute in it aswell so yh if you havent seen it it reli is a must see
Film Crazy
Super Reviewer
Satan saw this movie and had nightmares! It's gay... and I don't mean happy.
Dannielle Albert
Super Reviewer
½
Lovely! A tribute to the classic 60's play "Joseph and Amazing the Technicolor Dreamcoat" with Donny Osmond; he is the ultimate Joseph! There are nice appearances by Joan Collins and Richard Attenborough. The narrator, Maria Freidman, is a sweet lady who articulates the story nicely along. There are great catchy songs, done in different musical genres (western, opera, rock, orchestral...) The sound mix is odd; some of the voices on the recording do not come through loud enough; and it's not just my copy or home theatre setup! I noticed they also did not include the mega-mix dance finale on the filmed version unfortunately. There are lots of bright colors - partially blame the coat! The sets are great too, going much deeper and wider than a school stage. I loved the framing device of a auditorium performance; it really brings it back to its roots. I remember our school doing this musical when I was in grade 4. I also remember seeing this live in Edmonton with Donny on stage.
Lafe Fredbjornson
Super Reviewer
Joseph and the Amazing Technicolor Dreamcoat Quotes
There are no approved quotes yet for this movie.