Ju Dou
(1990)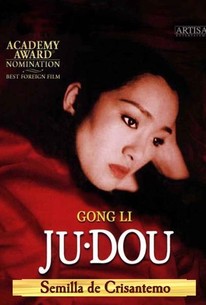 Movie Info
Zhang Yimou's second feature is set in China during the 1920s. Gong Li stars as the title character, a young woman whom the wealthy, aging Yang Jin-shan (Li Wei) buys to be his bride. Due to his own impotence, Ju Dou cannot bear the son Yang Jin-shan desperately wants; as a result, their marriage becomes violent and bitterly unhappy, forcing the girl into the arms of the old man's nephew Yang Tian-qing (Li Bao-tian).
News & Interviews for Ju Dou
Critic Reviews for Ju Dou
Audience Reviews for Ju Dou
"Ju Dou" tells the story of love between two people at the mercy of a cruel uncle and husband. Yang Tianqing (Li Baotian) is working for his uncle Yang Jinshan (Li Wei) at his textile mill where he dyes fabric. Tianqing learns that his uncle has purchased a new wife, this is his third, he had beat the other two to death for not being able to produce him a boy. It's no fault of these women, he's impotent and takes this anger out on these women. The new wife, and the new aunt to Tianqing, is a beautiful young woman named Ju Dou (Li Gong). Tiaqing becomes smitten with her, spying on her as she undresses and bathes. Soon, the two become lovers and she becomes pregnant with his son. Jinshan believes the kid is his until he becomes paralyzed and is forced to rely upon the two to take care of him. After several failed attempts at trying to kill the kid, he is put in a barrell high above the ground. He eventually comes to love the kid as his son when the kid accidentily refers to him as father setting about a chain of events that will end tragic. Beautifully filmed by Zhang Yimou on three-strip Technicolor. It has an aged feeling in it's beauty, but magnificently show it's yellows, golds and reds in such exuberance.
Joseph Boomhower
Super Reviewer
A tragic love story set against the colorful backdrop of a Chinese dye mill. The fantastic cinematography makes Ju-Dou a treat for the eyes even though the story is heartbreaking and sad. Highly recommended!
Randy Tippy
Super Reviewer
My first encounter with Zhang Yimou and it left a lasting impression. A must see for sure.
John Ballantine
Super Reviewer
Ju Dou Quotes
There are no approved quotes yet for this movie.