Jungle
(2017)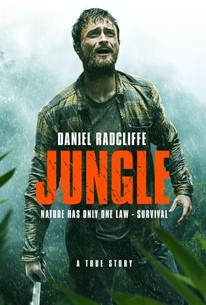 Movie Info
Four travelers set off into the heart of the Amazon rain forest, but what begins as a dream adventure quickly deteriorates into an utter nightmare. After a terrible accident, Yossi is forced to survive for weeks alone against one of the most treacherous backdrops on the planet: the Amazon Jungle. Stranded without a knife, map or survival training, he must improvise shelter and forage to survive. After losing all sense of direction, Yossi begins to give up hope, wondering if he will ever make it out of the jungle alive. Based on the real story of best-selling author Yossi Ghinsberg.
News & Interviews for Jungle
Critic Reviews for Jungle
Audience Reviews for Jungle
Radcliffe is up to the task of furthering himself from the long shadow of his Hogwarts past in this real life tale of a European Westerner looking for something more than the standard paths of his assigned life, only to find himself lost in the jungle in a bit of tragic parental karmic fate. Alas, the story does little though to delve into his psyche other than the adolescent urge to break free limiting our possible responses to the lead character's angst. Nonetheless, a decent survival tale howbeit with few unforeseen twists and turns.
Kevin M. Williams
Super Reviewer
½
As far as Survival films go it's pretty good, Based on a true story so don't expect over the top scenes and last gasp escapes from the wildlife, It's brilliantly acted by Daniel Radcliffe who puts in his best performance I've seen, It's beautifully shot and had some pretty gruesome scenes at times, It can be slow at times especially at the start but it's still a great film that works better thanks to the acting performance of Daniel Radcliffe.
Jamie Clarke
Super Reviewer
Greg McLean may have created the most terrifying Australian threat within Australian Cinema with the 'Wolf Creek' franchise. Here, he adapts one of the most brutally painstaking but incredible true stories of a young Israeli man; Yossi Ghinsberg who got lost and survived the Jungles of Bolivia in the early Eighties. The film maintains it's fascination with the story alongside it's charismatic performers, with Daniel Radcliffe once again proving he's an actor of strong diverse caliber in the main role. Whilst the supporting roles were great too, It's McLean's skill to really make the harsh unforgiving environment stand out, once Yossi is separated from his company, the film delves into a 'Man-vs-Nature' against all odds with hardly any previous experience to back it up, even with some brutal toughness pushed against he's character there's plenty of suspense as audiences can't help but be invested in this once ordinary man. That isn't to say the film has any flaws though, while the editing is quick and skillful the film's tonal can be very inconsistent, especially within the subconsciousness snapping between serious flashbacks and silly fantasies we like to have to escape our horrors. Though even, with a film that's deeply flawed, you can't dismiss it due to being beautifully shot, written and powerfully acted. In the end, 'Jungle' is a cautionary tale, that should be taken lightly, just be warned about what you're getting into before seeing it.
Luke Eberhardt
Super Reviewer
Jungle Quotes
There are no approved quotes yet for this movie.
Discussion Forum
Discuss Jungle on our Movie forum!