The Shame of Mary Boyle (Juno and the Paycock)
(1930)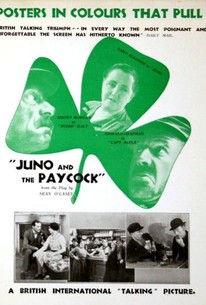 The Shame of Mary Boyle (Juno and the Paycock) Photos
Movie Info
Alfred Hitchcock's second talkie was a surprisingly static adaptation of the Sean O'Casey stage drama Juno and the Paycock. Set during the Irish "troubles" of the early 1920s, the film focuses on the trials and tribulations of a typical Dublin tenement family. Sara Allgood is brilliant as family matriarch Juno Boyle, who must contend with her bibulous, braggadocio husband, Captain Jack Boyle (Edward Chapman), known as the "paycock" because he always struts around like he owns the world. As Captain Jack carouses with his drinking buddy Joxer Daly (Sydney Morgan), Juno tries to keep her family together, a task that proves harder with each passing day, especially when daughter Mary (Kathleen O'Regan) is impregnated by her irresponsible boyfriend. Things take a tragic turn when Juno's weakling son Johnny (John Laurie), a member of the IRA, is shot as an informer by his own comrades. Sara Allgood's scenes after the death of her son are absolutely heart-wrenching, offering ample compensation for Hitchcock's plodding direction and the hopelessly hammy performance by Edward Chapman. Many of the supporting actors were drawn from the ranks of Dublin's Abbey Players, notably Barry Fitzgerald, making his film debut as The Orator. Juno and the Paycock was adapted for the screen by Hitchcock and his wife Alma Reville.
Critic Reviews for The Shame of Mary Boyle (Juno and the Paycock)
Audience Reviews for The Shame of Mary Boyle (Juno and the Paycock)
½
This is one of Hitchcock's early efforts, and, I believe, his second "talkie". It's also a very atypical effort in that it is a human drama based on an acclaimed play concerning the trials and tribulations of an average Dublin tenemant family during Ireland's "troubles" in the early 1920s. That it covers material different from what Hitch would later become a master at makes it kinda interesting, if only to see how he would handle things. Well, apparently this film is a close adaptation, but that doesn't mean that it really works. In all honesty, this film is a real drag. It's boring, unengaging, and reminded me a lot (to an extent) of Angela's Ashes, only not as good and harder to sit through. It also feels far longer than it is. Sara Allgood gives a decent performance, and holds everything together, but everyone else falls short. On top of that, the sound quality is pretty bad (the kinks hadn't been worked out yet) and that, combined with the thick accents of some of the performers makes it really difficult to discern what is going on at times. Visually the film is at least sort of interesting, with a bulk of the film being a series of static medium shots, sometimes done in long takes. Aside from that though, the film isn't really innovative or captivating. I don't really recommend it unless you are a completist or have a big fascination with early "talkies".
Chris Weber
Super Reviewer
One of the real Early Works of Alfred Hitchcock, has it his first, I don't know, but it lacks any real sign of the master himself in this film. I would give it a 1/2 star but Being a Hitchcock film, I will give it a single star. Think its supposed to be a British Comedy, no wonder I never dated a British Girl, Dry as a Bone. Must have come out right after sound was put on film, It came in a 10 Movie Hitchcock Collection. Your time is better spent playing in the middle of the road of a busy highway. If Hitchcock makes and appearance in this one, will someone please tell me where. 1 star its TRASH
Bruce Bruce
Super Reviewer
The Shame of Mary Boyle (Juno and the Paycock) Quotes
| | |
| --- | --- |
| Juno Boyle: | and don't be acting as if you couldn't pull a wing off a dead bee. |
| Juno Boyle: | And don't be acting as if you couldn't pull a wing off a dead bee. |
| | |
| --- | --- |
| Juno Boyle: | for the want of a nail a shoe was lost, and for the want of a shoe a horse was lost, and for the want of a horse a man was lost. Twas a darling proverb. |
| Juno Boyle: | For the want of a nail a shoe was lost, and for the want of a shoe a horse was lost, and for the want of a horse a man was lost. Twas a darling proverb. |