Kærlighed på Film (Just Another Love Story)
(2007)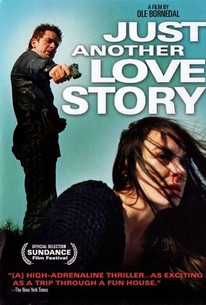 TOMATOMETER
AUDIENCE SCORE
Critic Consensus: An intense foreign language noir, Just Another Love Story uses some generic methods to tell its tale of mistaken identity but is sharply entertaining nonetheless.
Movie Info
Nightwatch director Ole Bornedal returns to quicken the pulse of thriller fans with this genre-bending tale of a crime scene photographer and family man who is violently shaken out of his suburban malaise following a fateful car accident. Jonas makes his living by capturing gruesome crime scenes in all of their lurid detail, yet lately the beleaguered shutterbug has grown increasingly despondent in both his career and his personal life. One day, while driving through the city, Jonas is involved in a car accident with a young woman named Julia. Unconscious due to the impact of the crash, Julia is rushed to the hospital. Later, a concerned Jonas makes a special trip to check in on Julia, and finds her comatose in her hospital bed and surrounded by loved ones. Having never actually met her boyfriend Sebastian, Julia's family immediately assumes that Jonas is the man they've all heard so much about as of late. While Jonas is all too willing to step into the role for the time being, his ruse grows complicated when Julia awakens with amnesia, and the real Sebastian begins to grow curious about the intruder that has stolen his identity. ~ Jason Buchanan, Rovi
Critic Reviews for Kærlighed på Film (Just Another Love Story)
Audience Reviews for Kærlighed på Film (Just Another Love Story)
½
A more than solid movie that in some scenes feels a bit pretentious, but it's still well made and tells a solid story. I liked the dynamic of the last act with Sebastian and Jonas each pretending to be the other. The movie sort of drags a bit even if it isn't that long but it never really hurts the overall experience all that much. Really good thriller.
Jesse Ortega
Super Reviewer
½
[font=Century Gothic]"Just Another Love Story" is anything but.[/font] [font=Century Gothic][/font] [font=Century Gothic]After all, how many start like this: Jonas(Anders W. Berthelsen), a crime scene photographer, is dying in the middle of the street on a rainy night with his wife Mette(Charlotte Fich) crying over him.[/font] [font=Century Gothic]Even though the passion has lessened from their marriage, they are still happy with two children and a car that is constantly breaking down. When it breaks down again on the side of the road, it inadvertantly causes Julia(Rebecka Hemse) to spectacularly crash her car, leaving her in a coma. Feeling guilty, Jonas goes to see her at the hospital, bluffing his way into her room as her boyfriend Sebastian(Nikolaj Lie Kaas).[/font] [font=Century Gothic]That's strange. Because Julia shot Sebastian in Hanoi.[/font] [font=Century Gothic]Got that?[/font] [font=Century Gothic]"Just Another Love Story" is a neat psychological mystery with a couple of plot conveniences including Julia's blindness and a dead boyfriend. It is influenced by both Almodovar and Hitchcock with a structure that blurs reality and fantasy which is appropriate since both Julia and Jonas have their share of dreams which is how they bond in a bravura sequence that cuts back and forth between the hospital and a Saturday evening at Jonas'. Subscribing to National Geographic, Jonas dreams of traveling the world which requires not only money but the will. Julia's dreams of travel might have leaned more to the romantic, never thinking they would land her in a hospital room back in her native land of Denmark which she was trying to escape along with her family. While Jonas comes off as something of a heel(but does he deserve his fate?), he is still trying to do the right thing and be nice which is her family's fantasy of the kind of man she should be attached to. But Julia may be too much of a fighter to need any of them. [/font]
Kærlighed på Film (Just Another Love Story) Quotes
There are no approved quotes yet for this movie.