Kabhi Alvida Naa Kehna
(2006)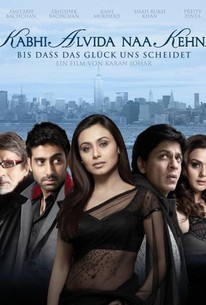 Movie Info
Indian director Karan Johar's three-hour feature Never Say Goodbye (Kabhi Alvida Naa Kehna) utilizes and celebrates the common Bollywood practice of combining multiple genres and elements - comedy, drama, romance and flashy musical numbers - into one picture of epic length, to maximize cinema's capacity for entertainment. The story concerns two Manhattan couples. Soccer player Dev (Shah Rukh Khan) and his magazine editor wife, Rhea (Preity Zinta) are happily married despite occasional stress on the relationship; PR executive Rishi (Abhishek Bachan) and preschool teacher Maya (Rani Mukherji) feel their marriage strained by her inability to conceive. But the couples' worlds are turned upside down when Dev and Maya meet and fall hopelessly -- wondering how they ever lived without one another. Meanwhile, Dev's father Samarjit (Amitabh Bachchan) - who lives for pleasure and satisfaction at the expense of others' feelings - complicates matters by encouraging his son's new relationship.
News & Interviews for Kabhi Alvida Naa Kehna
Critic Reviews for Kabhi Alvida Naa Kehna
Audience Reviews for Kabhi Alvida Naa Kehna
Absolutely fantastic! Here is a beautiful, and heartwarming movie that follows a pair of unlikely individuals who meet and are connected by one factor: true love. Dev and Maya are total strangers when they meet in a garden. Maya is hesitant about marrying her closest, childhood friend Rishi. Dev is a married man with a small family of his own. The two strike up an interesting conversation about true love, soul-mates, and happiness that later leaves them feeling a bit confident about their places in life. Several years later, they meet again and vastly become friends. Their past fears and troubles escalate, and the two began to question their current situations in which they are striving to make the best within their relationships whether they are happy or not. But, now, they have also realized that they aren't the same person as they were when they first married their spouses. Their marriages are suffering, and they are determined to make their relationships work regardless. As their joint plan later begins to unravel and worsen, the two feel the pressure and uncertainties of whether love and relationships should ultimately be saved even if they are no longer in love with their spouses. As they are growing fond within their friendship, the two realize that they are also falling in love with each other. The two pursue this newfound love, and later are forced to come to grips with their relationship. Great cast- Shahrukh Khan, Rani Mukherjee, Preity Zinta, Abhishek Bachchan, Amitabh Bachchan, and Kiron Kher. Great music! Vast appearances by Kajol (she's looking absolutely fantastic) and John Abraham. Definitely worth seeing!
Kabhi Alvida Naa Kehna Quotes