Kabul Express
(2008)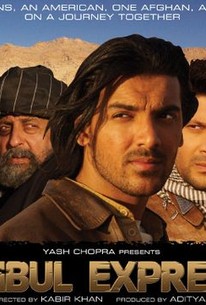 AUDIENCE SCORE
Critic Consensus: No consensus yet.
Movie Info
Five unlikely acquaintances make their way across Afghanistan as war looms on the horizon in this satiric comedy from filmmaker Kabir Khan. Suhel (John Abraham) is a broadcast journalist from India who is given an important and potentially very dangerous assignment. New York City's World Trade Center has been attacked by terrorists, members of the Afghan-based Taliban are believed to be involved, and the United States is expected to launch a major attack on Afghanistan in a matter of days, so Suhel and a cameraman, Jai (Arshad Warsi), are flown in to get a front row seat for the upcoming fighting. As they search for genuine Taliban fighters to interview, Suhel and Jai make their way across Afghanistan in a Land Rover with their driver Khyber (Hanif Hum Ghum). The television reporters are soon joined by an American photojournalist, Jessica (Linda Arsenio), and before long they find a cooperative (if surly) member of the Taliban to guide them, Imran (Salman Shahid). However, as the miles pass the traveling companions find themselves less concerned with terrorism or international politics than sports scores and seating arrangements, and they encounter a number of strange characters along the way who make the absurdity of the coming war all the more obvious. Kabul Express received its North American premier at the 2006 Toronto Film Festival. ~ Mark Deming, Rovi
Critic Reviews for Kabul Express
There are no critic reviews yet for Kabul Express. Keep checking Rotten Tomatoes for updates!
Audience Reviews for Kabul Express
Its about time we went to the other side of the fence and saw what it was like post September 11. Essentially, this is another progressive Bollywood film which derivs from the traditonal love and music movies, which i think, has been expertly done. I cannot see another Foreign Film treating the multi issues in war torn Afghanistan better, and blended into a well made movie our times - a political statement, a religous exploration, and adventure, a grim look into war, a study of culture and a positive outlook on human nature and how neutral beings or life experiences or even mutual interests can create new friendships. The two journalists from India are the protaganists, and with their driver and his jeep, the KABUL EXPRESS, they set out in search for the hidden Taliban to get the story of a lifetime..... and in a spectacular twist, a Pakistani Soldier who was allied with the Taliban takes the two hostage, and will release them if they only take him to the Pakistan border so he can go home. Along the way, they encounter an American photographer, also trying to find her fame and fortune in Afghanistan. Seeing and experiencing the worst Afghanistan has to offer, the hostages seem to realise that there is more to their kidnapper than meets the eye, and through mutual experiences and close encounters, they begin to learn more about each other and learn and sort of respect and friendship through the bitter differences they have. together they endure through shootings, attacks, criminals, angry mobs and the war itself. The ideal in a movie like this, the way I see it - is that during the all the wars, political strife, cultural clashes, the dead and dying, there is still a measure of survival and trust between different people, and that when you boil down the governments, politics, wars and other differences, in the end they are inherently made up of people who are no different to each other, rather it is those influences and pressures which divide us. A interesting modern adventure - very realistic and wondefully shot - though some of the acting is left to be desired especially by Linda Arsenio, but the view and background is spectacular. This movie is not shockingly violent as in gore and blood, but shocking in which how a scene builds up a tension and the moment to show the literal 'casualties' of war and the emotions and expression in what seems to be a dry and lifeless background. Watch it if you really want to understand what makes people different, and how politics, religion, war and people are intertwined - and admist all the seriousness there is always room for a laugh - heated discussions on who is the best allrounder in cricket - Kapil dev or Imran Khan?? - and their encounter with a "suicidal" donkey. :-)
Kabul Express Quotes
There are no approved quotes yet for this movie.