The Karate Kid Part II
(1986)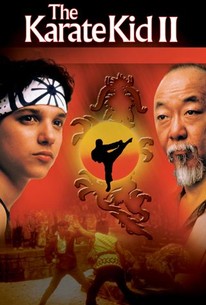 The Karate Kid Part II Photos
Movie Info
This sequel to the 1984 surprise hit The Karate Kid reunites Ralph Macchio as high-schooler Danny and Noriyuki "Pat" Morita as Danny's martial-arts mentor, Miyagi. Picking up where the first film left off, The Karate Kid Part II finds Danny and Miyagi making an emergency trip to Okinawa, where Miyagi's father is dying. Here they revisit Miyagi's childhood sweetheart (Nobu McCarthy), who, Miyagi believes, had been wheedled into an arranged marriage with loose-cannon karate expert Sato (Danny Kamekona). Little does Miyagi realize that the woman is still single; Sato is still around as well, however, and intent on resuming the fight with his old nemesis. Morita agrees; meanwhile, Danny is challenged by Kamekona's pugnacious nephew (Yuji Okumoto). ~ Hal Erickson, Rovi
People Who Like this movie also like
News & Interviews for The Karate Kid Part II
Critic Reviews for The Karate Kid Part II
Audience Reviews for The Karate Kid Part II
Sequel to The Karate Kid is a mediocre follow-up and quite frankly unnecessary sequel to a great film. This entry is boring and it is more tedious, lazy in its concept, plot and direction, as if the filmmakers didn't care how this one turned out. As far as they were concerned, they already made a great film, so why even try? They tried to differ with a new idea, but it just didn't work. Not even director John G. Avildsen was able to direct a good follow-up to his first Karate Kid movie. This is a pointless entry and it shows. There just isn't any compelling material at work on-screen to really make it stand out as an inspiring film. I was really disappointed in this film, and I did expect a lot more out of it a swell. If only they would have rewritten the script a few more times, maybe the film would have a better chance of being actually a good, entertaining family film. Stick with the first film, as this one misses the mark, and it could have been much better than what it turned out to be. I think it's a shame because the first film was so good, fun, memorable, inspiring and this one just ends up being a tiresome affair that doesn't offer anything really interesting for the viewer. I think it had so much potential, but ultimately, it failed at being the film it should have been. The Karate Kid Part 2 is a prime example of a sequel that fails to deliver what the first one did so well. Simply put a poorly constructed work that really leaves a lot to be desired.
There is more going on in this movie than the last one, actually I didn't write everything in that summary, but it's easy enough to follow when you watch it. The stakes in this film are higher than the last, making it exciting as well as more complicated. The characters don't change, thankfully, so it's a good, natural continuation to the story. The only part I didn't like was the ending. Although the film is long enough, it leaves you feeling that there could be more that happens next. I hope by seeing the third I will see what happens next, though. It's a very beautiful movie too, set in Japan, with good cinematography. Overall, I really liked it.
MisterYoda ?
Super Reviewer
The Karate Kid Part II Quotes
| | |
| --- | --- |
| Sato: | Now to you I am dead! |
| | |
| --- | --- |
| Chozen: | You keep for your collection, I know you like! |
| | |
| --- | --- |
| Sato: | You lower than dog! |
| | |
| --- | --- |
| Miyagi: | Man who catch fly with chopstick....accomplish anything. |
Discussion Forum
Discuss The Karate Kid Part II on our Movie forum!