Katalin Varga
(2009)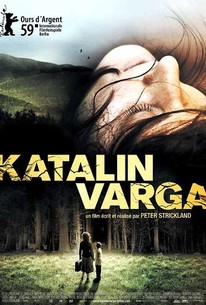 Movie Info
Antal Borlan's loving wife never suspected that her devoted and kind husband would be responsible for a past atrocity. Antal believes he has God's forgiveness and that his enduring marriage is testament to his redemption. An avenging angel by the name of Katalin Varga scales the Carpathian Mountains by horse and is in possession of the one thing that can redefine Antal's notion of redemption. Yet Katalin cannot fully comprehend the notion of vengeance until the devastating trail she leaves behind in her search for Antal finally catches up with her.
Critic Reviews for Katalin Varga
Audience Reviews for Katalin Varga
½
A revenge story from Romania with powerful performances (especially from the lead Hilda Peter) and vivid direction of Peter Strickland who additionally utilises the score and the surrounding setting as contributing characters to the film. The story unravels in a slow pace whilst the drama builds up to the final retribution.
Nicolas Korovessis
Super Reviewer
It's a story about a rape victim seeking vengeance once her husband discovers the fact some 10-11 years after the unfortunate event. While it's not your regular vengeance (kicking asses à la 'I Spit On Your Grave') kind of flick, it's nothing incredible either. Worth a shot, maybe, but nothing that would linger upon after a while. P.S. I'm not into landscapes, scenery, etc. in general & I don't know if that makes any difference whatsoever on how much impact this movie can have on one.
familiar stranger
Super Reviewer
From the beginning we know that Katalin Varga is on to something: after her husband discovers that she was raped 10 years ago and that their child is not really his, she leaves the village in a carriage with her son. She tells him that they're going to visit his grandmother, who is sick. This sounds believable to no one -and it isn't true, either.
The film was shot in the breathtaking Carpathians. It has an eerie, fairy tale-like feel to it, beautiful cinematography and sound design that would make Lucrecia Martel proud: everything, even Katalin's desperation, has a distinctive, organic sound. The story itself is not only very well developed, although some consider it slow, it also poses moral dilemmas that left me struggling to find someone to side with: what is really redemption? Who decides that someone has been redeemed? What is really vengeance? Who decides that vengeance is not also a crime to be avenged?
Katalin Varga has plenty of emotional force for such a small, quiet film. In fact, it's very aggressive, lurking, threatening; it's a very rare and quite fascinating form of suspense. The real motive for Katalin's journey is revealed towards the middle of the film, but that in no way loosens its grip; on the contrary, Hilda Peter's amazing performance becomes all the more puzzling and complex. Her own character, Katalin, collected yet violent, becomes the maker and at the same time the object of the movie's suspense: will she do what we think she'll do? will she be capable? will she take it back? It's very peculiar when a main character can produce empathy as much as terror.
I don't know if Katalin Varga will become many people's favorite film since it is so anguish-inducing. There are literally no bad or good characters: their cruel actions wind up annulling their redeeming qualities. As I said before, it's almost impossible to choose sides, and although this is an admirable achievement for the writers, in my opinion it also makes it very compromising to connect with the story in a positive way... However, that may just be the reason why it's worth seeing, along with its impeccable production and performances.
Katalin Varga Quotes
There are no approved quotes yet for this movie.