Keep the River on Your Right
(2000)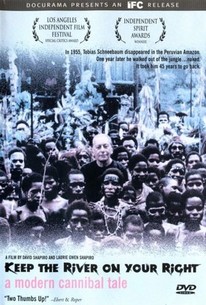 Keep the River on Your Right Photos
Movie Info
In 1955, artist, author, and anthropologist Tobias Schneebaum fulfilled a life-long dream by visiting the jungles of Peru. Seven months later, the New York native returned with remarkable tales of living with a tribe of cannibals, watching their murderous raids on other tribes, and even eating human flesh with them. In 1999, Schneebaum returned to Peru at the age of 78 with a camera crew in tow in hopes of finding the cannibals he lived with many years before. While Schneebaum prepares for his journey, he lectures on the rituals and lifestyles of indigenous peoples, shares his views on homosexuality and open marriage among the natives of West Papua (in one sequence, Schneebaum, who is gay, is reunited with a tribesman who became his lover), and shows footage from his expedition with the Asmat people, who are believed to have attacked and eaten Michael Rockefeller in 1961. Keep the River on Your Right: A Modern Cannibal Tale was shown at the 2000 L.A. Independent Film Festival.
Critic Reviews for Keep the River on Your Right
All Critics (50) | Top Critics (20) | Fresh (39) | Rotten (11) | DVD (1)
The Shapiros ... ultimately reveal a frail but mentally robust old man whose gnawing hunger for knowledge led him to shun a safe, comfortable career in art for a series of radically transformative experiences at the world's edges.
A fascinating if somewhat unfocused documentary.
October 11, 2001
Dallas Morning News
Top Critic
Schneebaum, a dull and helpless-looking nonentity at first glance, proves to be an amazingly courageous, inquisitive, remarkable man.
August 10, 2001
Houston Chronicle
Top Critic
There's no denying the warmth of Schneebaum's encounters, or his engaging nature. Or the fact that you've never seen a documentary quite like this one, and aren't likely to again.
May 25, 2001
Makes for fascinating, compelling viewing.
May 21, 2001
San Jose Mercury News
Top Critic
San Francisco Chronicle
Top Critic
Audience Reviews for Keep the River on Your Right
Tobias Schneebaum certainly engaged in some interesting research on indigenous tribes and their views on homosexuality and marriage but this film was centred on his return to the areas of his initial study..which makes it slightly dull. Perhaps the focus could have been placed on the research rather than a nostalgic trip.
John Ballantine
Super Reviewer
Keep the River on Your Right Quotes
There are no approved quotes yet for this movie.
Discussion Forum
Discuss Keep the River on Your Right on our Movie forum!