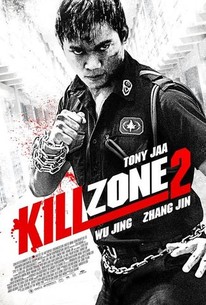 SPL 2: A Time for Consequences
2015, Action/Mystery & thriller, 2h 0m
22 Reviews
500+ Ratings
Rate And Review
SPL 2: A Time for Consequences Videos
SPL 2: A Time for Consequences Photos
Movie Info
When his cover gets blown, a Hong Kong cop (Wu Jing) lands in a Thai prison where the warden (Zhang Jin) works with a criminal mastermind (Louis Koo) to harvest organs.
News & Interviews for SPL 2: A Time for Consequences
Audience Reviews for SPL 2: A Time for Consequences
After watching "Iron Monkey" the night before, I was hoping to see a solid martial arts action flick from THIS year. Instead, I saw "Kill Zone 2". Like the title would suggest, the film is terrible. Sure, from the opening bars of Mozart's Requiem, you might get the impression that you are in for a beautifully shot, subtle but gritty kick 'em out/shoot 'em up thrill ride, but after the first action set piece the next 30 minutes continually loses steam until the film nearly grinds to a halt. Then there's another action sequence. "Oh!" You think, "This might not be so bad after all". You couldn't be more wrong. It just keeps drooling and flopping one scene to the next with an unnecessarily complicated series of coincidences having to do with the main characters' current health statuses, then people fight, and repeat. Just because it's complicated doesn't make it smart, and just because it's confusing doesn't make it complicated. There's a Chinese guy with down syndrome that can communicate with a little girl with leukemia via emojis that I think was supposed to be funny or touching, but you can't do such an absurd deus ex machina without a deeper purpose behind it. There's some vague theme of doing difficult things for our family (especially our brothers), but even that has been done to death by much better martial arts movies. In this instance it is only an excuse to get to fight scenes that are too few and far between to make it worth the wait. And jumping through a bus window is cool, but most bus routes don't take this long to get to their destination. I have to say, the horrid English singer-songwriter girl who sings over the more emotional parts of the film is so much western audience pandering that I was laughing when I should have been in thoughtful repose. If you go into this expecting "Ong Bak", you might end the film in a sleeper hold.

I may not review them as often as I should, and that's bad on my part, but I'm a big fan of martial arts movies. I'm also ashamed of the fact that I haven't seen as many of the old-school kung fu movies as I should have by this point in my life. But that's neither here nor there, the point is that I enjoy these films quite a bit, sometimes even when they're not that good. The point of it all is that it's been a while since I've been this entertained by a martial arts movie. That is, of course, excluding The Raid and The Raid 2, with the latter being one of the best action movies I have ever seen. It should be obvious to anyone who has seen both Raid films that there's no way this movie could ever come close to that, there's hardly any movie that could come close to how amazing both of those flicks were. But, being honest, this is a really damn good movie that, surprisingly, held my interest with its narrative. And I'm not suggesting that the narrative itself is amazing, but usually these films just end up having increasingly convoluted and nonsensical plots that you can barely even keep up with, much less understand what's even going on. Not saying that the plot is straightforward, because it does involve various plot threads, but I'm saying that they are all surprisingly easy to follow given how much is actually going on. And, in some sense, I found the story satisfying because the characters actually feel like they're fighting for something that's of importance to them. Again, I was just very surprised at how adeptly they managed all of these story threads without it becoming confusing to follow. The acting is solid all around, Tony Jaa has never been known for his skills as an actor, I think Donnie Yen is probably the best actor out of every of the martial artists that I've seen. But the point is that even Tony is pretty good in her role because, again, it feels like his character is given something important to focus on, which is his daughter's health and getting her the help that she needs. So I liked that. Once again, I know I've said this a lot, but I gotta give them props for putting together a narrative that at least was enjoyable enough and made you care for the characters. But, really, that's not what everyone who's watching this movie is here for. People are here for the action and the movie never disappoints when it comes to action. One of the other surprising things about the film is the fact that there's really not much action in the first hour or so of the film, there's the airport shootout, which I think is the only one in the first hour. I may be wrong, but they did spend a lot of time building up this world and the characters that inhabit it. But the action that is there is excellent. The highlight would definitely have to be the prison scene, where all of the inmates are released and Tony's character goes after the instigator of it, the same man who can help his daughter, though he doesn't know it at this point. The fact of the matter is that, I'm sure, shooting this scene with so many extras had to be hell to shoot, though I'm sure special helped with parts of that, but the way it is edited together is really masterful and how it's all made to look like one, giant on-going battle that goes through different areas of the prison. The climactic fight scene between Jaa's character, the man who can help his daughter and the prison warden is pretty fantastic all things considered. Just great action all around. Though I didn't like the fact that there's a situation where the protagonists find themselves in a life or death situation. You don't actually see how it's resolved, they just cut to the next scene that reveals they are absolutely a-ok and they got out of their situation without much problem. That was a little bit too much of the easy way out, like they didn't know how to get out of it and they just did that. So that was weak. At least to me. But that's really one of the few weaknesses the film had. I can't really much else, I thought this was a really damn good movie and I had a blast watching it. I'd definitely recommend it if you're looking for a good action flick.

Pou-Soi Cheang's SPL 2: A Time for Consequences lives up to its title. A sequel in name only, the film's story-line does take some of the concepts from its predecessor, but ultimately tells its own tale. At nearly 2 hours, the plot's first quarter follows a non-linear path, laying everything out for the taking. After that, the multiple character arcs carry the film the rest of the way. The action pieces are executed well with only a few minor nuances, such as slow motion and some over-used wire work. The final 30 minutes alone is note worthy. Wu Jing and Tony Jaa, actually do a decent job in the acting department, all the while delivering the goods in the fight sequences. Simon Yam, Louis Koo, and Jin Zhang round out some recognizable characters. SPL 2: A Time for Consequences is by no means a masterpiece, but for a Hong Kong crime thriller, it more than delivers.
See Details