Killer Klowns from Outer Space
(1988)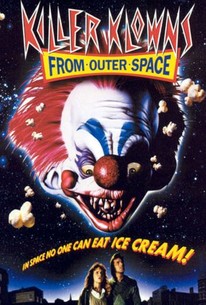 Killer Klowns from Outer Space Photos
Movie Info
This low-budget cult classic horror spoof has one of the great movie titles of all time. Mike (Grant Cramer) and his sweetheart, Debbie (Suzanne Snyder), are smooching on lover's lane when they see what appears to be a meteorite crashing over the horizon. They loosen their liplock long enough to investigate and find a curious circus tent. There they discover malevolent clowns who stop their victims with popcorn-shooting guns and acid-drenched pies in order to feast on human blood. The unfortunates are then entombed into inescapable cotton-candy cocoons. Officer Dave Hanson (John Allen Nelson) is called to investigate with help from Officer Mooney (John Vernon). For those viewers who already think clowns are a little creepy to begin with, this one will push them over the edge.
People Who Like this movie also like
News & Interviews for Killer Klowns from Outer Space
Critic Reviews for Killer Klowns from Outer Space
Audience Reviews for Killer Klowns from Outer Space
With more hits than misses, this amusing alien monster movie looks great and does deliver a lot of funny moments and all the goofy fun that is promised in the title - even though it can be very silly at times, especially in its harmless ending.
Carlos Magalhães
Super Reviewer
This is how you make a movie that is supposed to be bad, enjoyable. Spoofs and satires of the past ten years need to take a good long look into the mirror and ask themselves why they didn't use alien killer klowns for their premise instead of whatever lame brained ideal they came up with. This film stars basically all unknowns except for John Vernon (Animal House) and is probably one of the better movies based off B-films of the fifties. For a science fiction flick it has all the best details you're looking for: alien invasion, making believers out of non-believers, goofy sidekicks, and the beautiful heroine who has to be saved from danger. None of this film makes sense, but that's the beauty in it. Though the premise is laughable on its own, the filmmakers were really creative with many aspects of this film that they could have left lacking. I loved the use of all things circus to broaden the alien appeal, including using cotton candy as a weapon, popcorn to grow mini clown organisms, and the look of the aliens themselves. Their lopsided craniums and rubbery evil grins were especially creepy. The effects were good for the time period, and again, are used in really creative ways. The aliens don't just make everyone into cotton candy pods but also kill in gruesome and horrific ways. The plot actually holds up under direct scrutiny, even though the ending with the ice cream truck was just vintage goofiness, and the stuff involving the romantic leads was a bit much under the circumstances. It was a really well put together film and I was slightly surprised by how much I enjoyed it. I should warn now that if you don't like bad movies, like I do, you should veer away from this because it is not for the faint of heart or those with high sensibilities. The acting was surprisingly good under the circumstances, and features a young Christopher Titus as Bob. The film is full of fanciful colors, stage design, and costuming for these grotesquely shaped klowns. A classic of bad cinema, I cannot wait for the upcoming slated sequel.
Spencer S.
Super Reviewer
½
Much more entertaining than I expected. I'd heard so many strange comments about this one, I finally had to check it out. Glad I did. These clowns are pretty damn scary, for real, and even if this falls in the Below "B" category, it's worth watching.
Lanning : )
Super Reviewer
Killer Klowns from Outer Space Quotes
| | |
| --- | --- |
| Mike Tobacco: | Holy shit!!! |
| Mike Tobacco: | Holy shit! |
| | |
| --- | --- |
| Officer Curtis Mooney: | I don't know who you are... But before this night is over... you're gonna be begging for mercy. |
| Slug: | What are you in for? |
| | |
| --- | --- |
| Farmer Gene Green: | What in tarnation is going on? |
| Farmer Gene Green: | I'll tear this thing apart with my bear hands!! |
| | |
| --- | --- |
| Officer Curtis Mooney: | They wanna play games? Their messing with the wrong guy. |