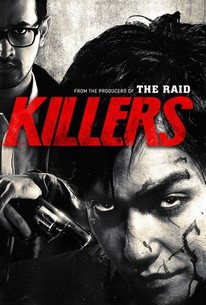 Killers
2014, Action/Crime, 2h 17m
15 Reviews
1,000+ Ratings
Where to watch
Rent/buy
Rent/buy
Rate And Review
Movie Info
A psychotic executive triggers a journalist's dark side, and they begin to form a strange bond through the Internet.
News & Interviews for Killers
Audience Reviews for Killers
Drags on way too long, and is a bit confusing to follow at times as it follows two men in two countries- one in Japan, one in Thailand- and all the associated characters and many deaths and beatings, due to both men being psychopaths. Attention got a bit strained by the end, but for a dark action movie, it wasn't too bad. Once was definitely enough, though.

A film that is definitely not for the weak of heart or the squeamish. While I wouldn't call it as bloody as The Raid 2, but it was certainly more violent. What I mean by that is the fact that the violence is far more gruesome and unflinching that it was in The Raid 2. It's just a far uglier film, as it relates to violence and death, than one would've reasonably expected upon watching the trailers. And, you know what, I thought it was a really good film. It's got a good sense of style that captures the brutality of the murders that are committed quite well. Perhaps the film might not have the most inventive of stories, but what it does it pulls off very well. In spite of all the violence, at its core, this film is pretty much psychological horror and what makes a, seemingly, normal man, in the case of Bayu, become the murderous man he becomes. And what event in his life motivates a man, in the case of Nomura, to lash out at women the way he does in the film. Nomura is clearly a disturbed man and it's intriguing getting a glimpse into his mind and the way he's presented as a character. He's certainly a detestable piece of shit, but I was intrigued by his character progression and his search to find someone who truly understands him which, you guessed it, leads him to communicate with Bayu after he posts a video of some people he killed, in self-defense, intrigue Nomura. With that said, for one reason or another, I never came to think of this as a great film. It is very good, don't get me wrong, and an easy recommendation to say the least, but it never crossed the great threshold, to me. I don't wanna say that it's a one-dimensional film, cause the leads do at least have some depth, it's just that it starts at the same level it ends. Granted, the ending itself is fairly memorable all things considered, but it doesn't really offer much that is different from what you had already seen prior. Hell, the ending itself isn't, by far, the most violent scene in the entire film. It's not that it had to end on the most violent scene for it to have worked, but it's just strange to see that it played out that way. I honestly have no idea how to explain it. Because, all things considered, the film is extremely well-paced, particularly for a 130+ minute film. It never felt like it dragged or anything of the sort. The acting is very solid, particularly from Kazuki Kitamura, who played Nomura. The character, honestly, reminded me of Patrick Bateman from American Psycho. Kazuki isn't as good here as Christian Bale was in that movie, but that's only speaking to Bale's greatness in American Psycho and not because Kazuki didn't do a great job. The only difference is that Nomura is a more mentally 'vulnerable' character and Bateman is literally batshit crazy. Oka Antara, Bayu, is also very good, but he's the more 'vanilla' of the two. Vanilla in obvious quotation marks due to the nature of what he does. Let's just compare him to a Batman who has absolutely no problem with killing the villains. Well except his parents weren't murdered, he isn't rich and does not have a butler to wipe his ass for him. The film is excellently shot, cinematography is very strong. As mentioned, it's a very stylish film in all its ugliness. It's well-written, even if the film is certainly very generically framed. There's not really much of a problem with that when the film is as good as this. I wouldn't call it a great film, for reasons I've already stated, but it's very good psychological horror with some strong acting and interesting character development. Flawed, but still very much worth watching.
See Details