The Killing of Sister George
(1968)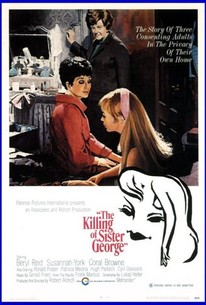 Movie Info
Highly controversial at the time of its release, Robert Aldrich's bitter comedy-drama stars Beryl Reid as a soap opera star who is engaged in a dissolving lesbian relationship with an aspiring young actress (Susannah York).
Critic Reviews for The Killing of Sister George
Audience Reviews for The Killing of Sister George
½
An outstanding performance by Beryl Reid, she is not afraid to show her character as an at times rather unpleasant and selfish woman but still very human and makes you feel for her plight, is the highlight of this landmark film with very good support from Susannah York and Coral Browne. Dated and sometimes drawn out still worth seeing for the lead performers.
"Not all girls are raving bloody lesbians you know" "That is a misfortune I'm perfectly well aware of"
"A flawed credible cow!?"
"Mooo... mooo!... MOOO!!"
I do love the lesbians in The Killing of Sister George. By today's standards they may seem extremely non-pc - you couldn't say they were sympathetic characterisations by any stretch - self-destructive diesel-dyke and child-like lipstick dipstick - not to mention Coral Browne's positively vampiric predator! Despite this, in it's own antiquated way, they are still believable and their tragic existence is quite moving.
But, as we have come to expect from Aldrich, there are plenty of scraps and campery - Beryl Reid and Coral Browne positively lick their lips - Browne, at one point, calling Reid a "dreary, inadequate, drunken old bag" and Reid rounding off a fight and telling Browne "Why don't you piss off?"
A particular highlight, for me at least, is the outrageous sex-scene. It's gob-smacking: filmed like a scene from a Hammer film, as Coral Browne bares down on Susannah York like a vampire - coal-black eye make-up, blood red lips and dress and creepy insinuating violins on the soundtrack. It's wonderfully gothic and totally inappropriate for a sex scene. It's one of the many reasons I cherish this film!
If you are looking for a touching and poignant portrayal of lesbian love then go search out the marvellous and much under-rated Desert Hearts. But if you want more of the same screaming camp bitchery and over-the-top performances a la Baby Jane and Hush Hush Sweet Charlotte then look no further than the melodramatic and tawdry tale of Georgie, Childie and Mercy Croft.
William Sleet
Super Reviewer
The Killing of Sister George Quotes
There are no approved quotes yet for this movie.