King of Ping Pong (Ping-Pongkingen)
(2008)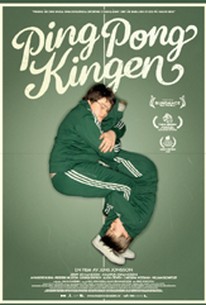 King of Ping Pong (Ping-Pongkingen) Photos
Movie Info
In icy Sweden, 16-year-old Rille faces a daily grind, trying to get through life's hassles with grace. Plump and moody, he's the butt of many a school joke and only an onlooker where girls are concerned. Home life presents its own challenges: his single mom is dating a nerdy older man, his absent father (a professional underwater diver) is charismatic but undependable and usually drunk, and Rille and his younger brother, Erik, struggle to feel grounded in the domestic game of musical chairs.

Rille's one refuge is ping pong. He's an accomplished player and supervises a community ping-pong program for kids, acting as mentor and, okay, a sort of self-appointed king over his younger subjects. The entire formula of Rille's life makes for a tenuous equilibrium, and this is threatened when family secrets are accidentally disclosed, setting Rille and Erik on an emotional collision course. But in his pained progress toward the chaotic adult world, Rille occasionally catches a glimpse of the possibility of surviving and thriving.

Director Jens Jonsson renders this delicate story with finesse and a quiet humor that infuses everyday drama, and even a few shocking moments of near calamity, with lightness and warmth. Outwardly quiet, but abuzz with emotional interest, King of Ping Pong is a lovingly etched portrait of the awkward years, certain to be familiar to many filmgoers. --© Sundance Film Festival
News & Interviews for King of Ping Pong (Ping-Pongkingen)
Critic Reviews for King of Ping Pong (Ping-Pongkingen)
Audience Reviews for King of Ping Pong (Ping-Pongkingen)
½
So, what if the Swedes made a version of "Napoleon Dynamite" only as a drama? Chubby kid Rille (Jerry Johansson) is in charge of the ping pong table for 4th graders at a community center. He lives with his hard-working, long suffering mother, and out-going and popular brother. Throughout the movie, you're waiting for him to snap, and although he sort of does, it perhaps says more about the nordic temperament that he doesn't (if this were a U.S. film, he'd probably blow up the school or something). He doesn't seem to fit in anywhere, not with kids his own age, not with girls, not even with his own family (his brother and rugged, scuba-diving father seem almost identical while he feels he's the odd man out). His mother brings home the town's laughingstock, a man nicknamed "Road Gunnar" (nicknamed thus because of a failed road construction he was planning- it's failure leading to his nervous breakdown), who, when Rille overhears a conversation between he and his mother, begins to suspect that Gunnar is his father. Meanwhile, the quiet, studious girl Rille has a crush on draws pictures with an innate focus on the male form, and his estranged father turns out to be more than a rogue, he seems to be a drunk as well. While there's alot crammed into this movie, it seems to move at a glacial-like pace, and it's tough to generate much excitement over what does happen when it happens. However, there does seem to be genuine emotion at stake, and the characters are portrayed in a realistic fashion. The King of Ping Pong is a mild enjoyment, nothing ground-breaking, but I don't think it's trying to be.
Devon Bott
Super Reviewer
Swedish indie films isn't exactly something I watch on a regular basis, and this reminded me a bit of why. Because altough the story is original, and even fairly amusing for the most part, I couldn't help but be very bothered by its consistently bleak scenery and color filter, which evidently was a conscious choice by the director. Perhaps to give it an artful appeal, I don't know. But if I had to choose between depressingly grey and campy color mania, like in, let's say, "Speed Racer", I'd definitely prefer the latter. Anyhow, apart from that irritating element, it remained a decent and watchworthy movie on the whole.
King of Ping Pong (Ping-Pongkingen) Quotes
There are no approved quotes yet for this movie.