Kirot
(2009)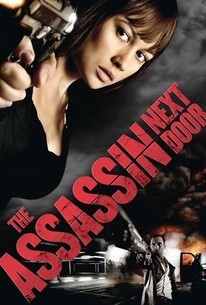 AUDIENCE SCORE
Critic Consensus: No consensus yet.
Movie Info
Two women who are both prisoners of circumstance find solace in friendship in this dramatic thriller from writer and director Danny Lerner. Galia (Olga Kurylenko) was born in the Ukraine, but fell in with a band of gangsters who've forced her into a career as a prostitute in Israel. Galia's minders offer to let he go back home to her family and the daughter she left behind, but in exchange she must kill one of their enemies. Galia agrees to the deal, but after murdering her target the gangsters renege on their pledge and keep her locked up in a Tel Aviv flat. Galia gets to know Elinor (Ninet Tayeb), a woman living next door who lives under the thumb of her violent husband, and as they strike up a friendship born of a mutual desire for freedom, they look for a way out of their desperate lives.
Rating:
R (for violence, language and brief nudity)
Genre:
, , ,
Directed By:
Written By:
In Theaters:
On DVD:
Runtime:
Studio:
First Look Studios
Critic Reviews for Kirot
There are no critic reviews yet for Kirot. Keep checking Rotten Tomatoes for updates!
Audience Reviews for Kirot
Olga Kurylenko (Quantum of Solace) gives a strong performance as a sex slave Ukrainian woman in Israel who is forced to work as an assassin, with threats of death directed at her daughter unless she follows orders precisely. There is no way to escape because her employer has her passport and money and when she attempts to make a run for it, she's captured and her even less lucky companion killed. She's kept in a cheap, dingy Tel Aviv flat by these men, a place where the screams of an abused wife echo through walls from next door. Life is bleak but eventually she strikes a friendship with Eleanor. The two women bond over their mutually grim situation as they look for a way out of their desperate lives. Both women are easy to feel sympathy for given all the onscreen battering, and we long for them to finally hit back at their abusers. Teasing frisson of same-sex attraction leads nowhere, but the tale drives right over the edge of lurid thrillerdom in a shoot-'em-up finale that has us cheering.
In the footsteps of Luc Besson's La Femme Nikita and The Professional,comes this awesome film by Danny Lerner about a prostitute force to become a hitwoman for the russian mafia after she tries to escape their organization. She becomes friend with a woman who is abused by her husband,and together embark on a campaign of revenge and freedom. If you had only seen Russian beauty Olga Kurylenko in "Hitman" and "Quantum of Solace",you are in for a surprise.Here you can see her versality as an actress,she's wonderful and so beautiful as always as the assasin,with Ninet Tayeb also giving an outstanding perfomance as the abused wife. You will find this film under the english title "The Assasin Next Door". I didn't know it's original name is "Kirot" until I came to Flixster to review it! A very satisfying film!
Benjamin Zapata
Do not let the poster fool you! This is not an action movie, its a very good drama. Galia played by Olga Kurlenko is a woman with a troubled past, and trying to run away from it. She is than forced to be an assassin in Tal Aviv, because she is trying to get home to her daughter. As she becomes better at what she does, she finds out her neighbor Elinor is also running way from an abusive husband. The two neighbors start to have a strong bond, when Galia's career catches up with her, it puts both of them in the crosshairs. This movie started out strong, it really showed the darkness of being an assassin, but most of the time the movie is very slow, but it picks back up at the end when it keeps you on the edge of your seat.
Grant Welsh
Kirot Quotes
There are no approved quotes yet for this movie.