Kites
(2010)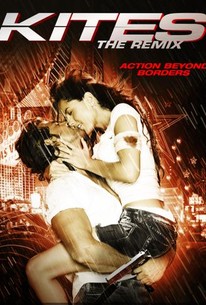 TOMATOMETER
AUDIENCE SCORE
Critic Consensus: Thoroughly overwrought in true Bollywood fashion, Kites is deeply flawed -- and too effervescently charming to resist.
Movie Info
A passionate affair leads to danger and excitement for two young lovers with nothing to lose. J (Hrithik Roshan) was left to die in the Mexican desert. Handsome and resourceful, he's one step ahead of certain death when Natasha (Bárbara Mori) blows into his life like an electrical storm. In a flash, he's smitten. Somehow, despite the deep cultural and language barriers that separate them, J and Natasha form a powerful connection. But Natasha is engaged to another man, a powerful figure who's none too pleased that his prize got away, and who would rather see her dead than in the arms of another man. Perhaps if J and Natasha can just manage to escape, they can find a place to start over, and begin a new life together.
News & Interviews for Kites
Audience Reviews for Kites
Lemme just say that the leads are portrayed as being so blindingly and stereotypically attractive, that they just put me off. It is very stylish I suppose, but where's the substance? That being said, I was mildly entertained here. It was over the top of course, and I expect that with Bollywood, but the love story behind it just didn't pull me in as others have done. Too many cliches and unrealistic stuff happening here. I just didn't see the "effervescent charm" here RT claimed. I think there are way better Bollywood films out there.
Watching this Indian movie Kites, reminds of only one thing, this was like a Bond movie, only in the Indian version.Mostly I am not into Indian movies, but Kites was different it brought a new breeze, the plot maybe usual and cliche and the story was quite melancholic but not excessive.The performances were good and the chemistry perfect. Hrithik Roshan could have been better in some scenes,and Barbara was GORGEOUS and her performance was okay. The director did a great job filming this out India"s conception. There they want some monkey dances and some nonsense romance, with opposition from parents and happy ending. That's why I liked Kites, I think it will take some more years, but they will grow out of it and start making good movies.
Daisy Maduro
Super Reviewer
½
The storyline is quite plain & simple, & is served so. The execution is so lame that you'd feel as if you're watching some ordinary love story. I'd rather re-watch Koyla which resembled the plot quite a lot. I can understand if one person had overlooked this matter of hardly existent & barely appealing plot plus the way of telling it. But how come Hrithik, Rakesh Roshan & Anurag Basu, all 3 of them happened to okay this? It surprises me that Rakesh Roshan chose this project as Hrithik's vehicle to present before international audience. But what surprises me even more is the positive response it got from known international (okay, read "Hollywood" if you want to) critics!!! What did they enjoy in this movie? Okay, it was visually great, but that's it. Talking about performances, Hrithik's expressions tend to get repetitious after a point, especially when he's with Barbara. Barbara is the best of the lot. She pulls off her part quite well, and has a pleasant screen presence. Kangana is hardly there. Unlike many, I didn't find Nicholas great either. It's truly disappointing that one of the most awaited films of the year in Bollywood turned out to be a disastrous experience.
familiar stranger
Super Reviewer
Kites Quotes
There are no approved quotes yet for this movie.