Korol Lir (King Lear)
(1971)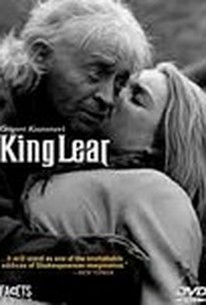 AUDIENCE SCORE
Critic Consensus: No consensus yet.
Korol Lir (King Lear) Photos
Movie Info
This is a Russian, black-and-white production of the great Shakespearean classic, starring Juri Jarvet. Long-considered one of the greatest and most wrenching tragedies in world literature, King Lear shows that great force of character is not necessarily wise, rude speech is not necessarily unkind, and madness is in some cases a perfectly reasonable response to intolerable conditions. This film's low-key, dark imagery is a fitting match for the dark content of the play itself. ~ Clarke Fountain, Rovi
Critic Reviews for Korol Lir (King Lear)
All Critics (3) | Fresh (3) | Rotten (0)
Another Shakespearean triumph from the Soviet master director Kozintsev.
February 22, 2007 | Rating: 5/5
The film is a visually impressive Russian recontextualization of the play with strong, empathic performances.
Audience Reviews for Korol Lir (King Lear)
King Lear(Juri Jarvet), sensing the end is near with his failing faculties, decides to divide his kingdom between his three daughters in order to avert war. But first they must tell him how much they love him. His two eldest daughters Goneril(Elza Radzina) and Regan(Galina Volchek) lay it on a little thick while the youngest, Cordelia(Valentina Shendrikova), does not kiss up to the old man. In response, she is disowned while the Duke of Kent(Vladimir Yemelyanov) is exiled when he protests too much. Despite this, the King of France(Juozas Budraitis) still agrees to marry her. As Lear is about to go walkabout with his fool(Oleg Dal), Gloucester's(Karlis Sebris) illegitimate son Edmund(Regimantas Adomaitis) is starting to plot... This version of Shakespeare's tragedy about filial love comes to life with its black and white cinematography and fiery performances. As deliberate as the movie starts, it ends with a full crescendo of heartbreak and action, played to the hilt. In the end, the question remains whether or not it had to conclude this way.
Korol Lir (King Lear) Quotes
There are no approved quotes yet for this movie.