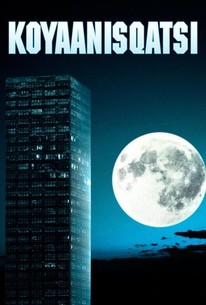 Koyaanisqatsi
1982, Documentary, 1h 27m
21 Reviews
10,000+ Ratings
What to know
critics consensus
Koyaanisqatsi combines striking visuals and a brilliant score to produce a viewing experience that manages to be formally daring as well as purely entertaining. Read critic reviews
Where to watch
Rent/buy
Rent/buy
Rent/buy
Rate And Review
Movie Info
Drawing its title from the Hopi word meaning "life out of balance," this renowned documentary reveals how humanity has grown apart from nature. Featuring extensive footage of natural landscapes and elemental forces, the film gives way to many scenes of modern civilization and technology. Given its lack of narration and dialogue, the production makes its points solely through imagery and music, with many scenes either slowed down or sped up for dramatic effect.
Audience Reviews for Koyaanisqatsi
Yup, it'll be a while before the rumbling chorus of "KOOOOOYAAAAAANISQATSIIII" leaves my head. What a hypnotic, chilling, and transcendent marvel of a documentary. As a sumptuous treat for any viewer who appreciates the rhythmic, subliminal art of editing, 'Koyaanisqatsi's' impact is simultaneously tranquilizing and unnerving. I felt in my bones that I was going through an experience entirely unique to me, allowing me to imprint my understanding of the world without being lectured to. Amidst a breakneck, dizzying 20 minute stretch, there's a sudden "catch a breath" moment where the drawn out gaze of a seemingly disgruntled woman in the crowd catches the camera directly. She's an unnamed soul forever gone to time and space, yet looped in this instance of connection with myself and stranger after stranger who view her next. Thank you, Reggio, for littering the film with such mini miracles. Sidenote - this would make a killer double feature with '2001'. Also, if you've ever struggled to understand why Zack Snyder obsesses over orchestra-drenched slow motion shots steeped in contemplation, this film should clear a lot up about his inspirations. 'Koyaanisqatsi' weighs on the mind more than it tugs at the heartstrings. What you take from it will only be enriched by what you bring to it. Turn off the lights, crank up the speakers for all that Philip Glass goodness, silence your damn phone, and be immersed.

So, Koyanisqaatsi. Boring junk to some, an involving masterpiece to others, and God knows what other adjective-noun combinations are out there. Most of these descriptions are fairly subjective, but it would definitely be wrong to regard Koyanisqaatsi as anti-cinema. It is anything but. Cinema, in its purest form, is a marriage of sound and visuals; everything else is just decoration. Dialogue? Storyline? Koyanisqaatsi harks back to an age when cinema was simply a filmed record of a situation. Was it not the Lumiere brothers who are generally regarded as the first pioneers of cinema? And is it not the case that their films comprised of nothing more than situations like a couple feeding their baby, workers leaving a factory, or the (in)famous Train Leaving A Station, which went down in folklore as causing people to flee the auditorium in panic thinking they were about to be hit by a train as it approached them on-screen? Koyanisqaatsi is cinema returning to its roots, to the days when the possibilities for film as an art form were wide open, free of commercial constraints and fickle audiences too narrow in scope to accept anything other than what they view as the given norm. In a way it's fairly irrelevant what Koyanasqaatsi meant to me on a personal level, though I might get to that later. What's important is what Koyanasqaatsi represents. It's an interesting attempt (and a successful one in my view) to illustrate how a narrative can be created simply by editing together seemingly loosely related scenes and images. It reminds me of another cinematic milestone, the Kuleshov experiment, in which two separate images where edited together to create a third meaning, and which helped establish what is now known as Russian montage (and speaking of the Russian montage tradition, anyone who has seen Vertov's The Man With The Movie Camera will no doubt find traces of it in Koyanisqaatsi and vice versa). Koyanisqaatsi takes it one step further, perhaps even to its logical conclusion, using editing to create a new meaning for the entire narrative as a whole. It works on a gut level and sparks an emotional response, in a way it demands a response, be it boredom, amazement... it really depends on the person. As such it's an example of cinema at its most subjective. Coming back to the influence Man With A Movie Camera no doubt had on this film, I think what Godfrey Reggio has done here is take this specific style of film-making and turn it into what I, personally, view as a cinematic statement on humanity -- and our technology's relationship with the environment around us. It's a pessimistic film, filled with Cold War anxiety (though it hasn't lost any of its relevance), and in retrospect, I also found it reminiscent of an age when America still had a strong avant garde movement in the shape of people like Reggio or Laurie Anderson (and in a way it's an interesting coincidence that 1983 also gave birth to another experimental documentary, Chris Marker's Sans Soleil, which is equally rich in scope and tackles the same philosophical issues, albeit from a slightly different angle). I really wonder if the western world could produce a film like this today, in an age where cinema audiences are more fickle than ever, demanding a cut every three seconds and some sort of "surprise twist" at the end, with hardly a niche left for the Godrey Reggio's of this world. But in a way I suppose it doesn't really matter. Koyanisqaatsi, to me at least, is one of the richest cinematic experiences anyone could possibly hope to have. You won't see many films like it.

This just might be the greatest non-narrative film of all time. It might not have a plot, and the script was probably more like an outline of the various sequences, but there's definitely a story here. Composed entirely of various footage of both natural and human environments set to the brilliant and haunting music of Philip Glass, Koyaanisqatsi (it's Hopi for "life out of balance", this is a look at our world, the juxtapositions between man and nature, and the fact that man is winning, and nature isn't. That's the story, and the film itself, right there. It somehow manages to be both straightforward and simple, yet have so much going on. And it's all done without dialogue (save for some postscript at the end). That is an amazing feat right there, and I feel like a better person for finally sitting down and giving this celebrated art house gem a watch. Sure, Herzog did some stuff like this before 1983, but this film really set a standard for artsy, somewhat pretentious experimental pieces that could be appreciated by the masses as well as the elite. The cinematogrphy by Ron Fricke is, brilliant and pretty innovative (especially for the time), and this is one of the best experiecnes I've gone through in a while. That's also the best way to treat this film. It's an experience more than anything, and I could easily see this playing in an art galelry or something. I really dug what all involved did here, but the film does seem to run out of steam here and there, and for very brief moments ,this truly felt like a gimmick. That didn't last too long though thankfully. It's weird, since even though I thought this ran out of steam (depsite being just under 90 minutes), I'd love to know how much footage was cut out, and I'd like to see it as well. Give this a watch, even if only once. It's a really special and unique film, and I feel like each person needs to have a surreal, ethereal experience like the kind this film provides.

Visually and metaphorically very good. I especially liked the comparison between the sausages and humans. Very interesting but not something to watch for entertainment. We are destroying this world. Nature vs. humans.
See Details