Kuma
(2012)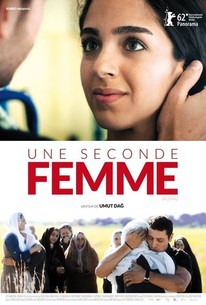 Movie Info
Ayse, a 19-year-old girl from the Turkish countryside, is chosen to be married to the handsome Hasan, son of formidable and house-proud mother Fatma, who resides in Vienna with her husband and six children. However, what soon becomes apparent is that Ayse is to be second wife to Fatma's husband. This tight-knit family go to great lengths to preserve traditional values, and although polygamy is illegal in Austria, Ayse is welcomed with warmth. Yet, her presence in a country whose language and culture is entirely foreign to her immediately marks her as an outsider. As Western societal norms and Muslim religious beliefs draw closer together in an ever diversifying family unit, tensions arise, resulting in an explosive stroke of fate.
Audience Reviews for Kuma
Centered on two women from a Turkish family living in Vienna, this sensitive and involving drama takes a careful time to let us understand them instead of judging their actions - thanks especially to Koldas and Akkaya, who perfectly convey all the emotion needed for their roles.
Carlos Magalhães
Super Reviewer
½
Young Turkish girl Ayse (Akkaya) marries the handsome Hassan (Muslu) in her small rural village before moving with her husband to his home in Vienna, Austria. The marriage is a sham, however, designed solely to appease the Austrian authorities. On paper, Ayse has married Hassan, but in reality she has become the second wife of Mustafa (Erincin). His first wife, Fatma (Koldas), is accepting of the arrangement as she expects to die from cancer soon. However, Mustafa is the one who passes away, following a heart attack. Ayse becomes the new joint head of the family, much to the chagrin of Mustafa's daughters, who are roughly the same age as her and identify themselves as Austrians rather than Turks. For practically every Western European country, the current political hot topic is immigration. Liberal societies find themselves struggling to accommodate those who arrive from the ultra-conservative culture of Islam. We've seen the issue addressed in several recent films but Turkish-Austrian film-maker Dag is the first to tackle this subject from the side of the Islamic immigrants. Like the sons and daughters of Mustafa, Dag appears to consider himself closer to Austrian culture than that of Islam. The film heavily critiques Islamic culture but does so in an overly melodramatic fashion. If a Muslim family appeared in a TV soap opera, I imagine their story-line would hit all the cliched points we get here; a character is secretly homosexual (Dag seems to offensively suggest Austrian society has "turned" him), while another one embarks on an affair in the local Turkish supermarket. There's not one twist you can't see coming and, while some elements may shock you if you're a radical conservative who lives with your head in the sand, it's all old hat if you're a corrupted western infidel. Akkaya, a stunning and charismatic actress, puts in a great performance but if you want to see a critique of Islam handled in a more mature fashion, I suggest you check out Haifaa Al-Mansour's excellent 'Wadjda'.
The Movie Waffler
Super Reviewer
Kuma Quotes
There are no approved quotes yet for this movie.