Kundo: Age of the Rampant
(2014)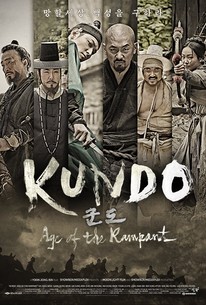 Kundo: Age of the Rampant Photos
Movie Info
1859. The last days of the Joseon Dynasty, where the wages of greed bring poverty and death. A pack of bandits - calling themselves KUNDO - rise against the tyrants, stealing from the rich and giving to the poor. In an era where status is decided by birth, this band of thieves risks their lives for honor, in the name of the poor and oppressed. But for one man, a debt of bloody revenge is owed to the aristocrat that robbed him of his family and his name. (c) Well Go USA
News & Interviews for Kundo: Age of the Rampant
Critic Reviews for Kundo: Age of the Rampant
Audience Reviews for Kundo: Age of the Rampant
This is a good action movie that isn't as much like Robin Hood as I'd have originally thought. Granted it has much of the same themes, such as the bandits giving what they take from the rich to the poor, who were defrauded out of their land and forced to go hungry for weeks on end by privileged people who take everything away from them. This somewhat reminds me somewhat of a The Good, The Bad, The Weird in that it is an action western. Except in this case, it's a western without the guns. But the way it's shot and even the score reminds you of a western. It's obviously not as good as the aforementioned film, which would rate among in my top 5 favorite action films of all time, but this is an entertaining film with a story that, while not particularly complex, is something that you very easily get into since it's such an easy story to tell if it's done well. Perhaps it lacks a little emotional depth to truly make you care for these characters, but all the characters are likable and the villain is simple but effective at making you dislike him. I don't really have much to say about this film to be honest, I'm struggling to find things to say. I had to stop the movie for a while because I was tired so, in that way, the film didn't seem as long to me as it did to others, but I can see how some people would think that this was much too long in some respects. I don't think there's enough interesting character work to warrant the film being this long. But I think even that is part of how it's trying to emulate a classic western epic. But the film is well-acted, nothing wrong with it at all. While some South Korean films rely too much on maudlin melodrama I think, at their cores, most of them are actually well-acted films that don't come across that way due to the melodramatic antics. Thankfully, however, this movie doesn't rely on that. That's not to say it doesn't have its more 'down' moments, if you will, it's just that they don't exploit it for all its worth. Another thing about the movie is that it's fairly dark in the sense that there's some fairly violent visuals that I wouldn't have expected. Not that they feel out of place, I just wouldn't have expected it. That's about it really. It borrows heavily from spaghetti westerns and old samurai films like Seven Samurai and Robin Hood. But it does so in a way that the film is still very entertaining, even if it doesn't come close to its influences as it relates to quality. Still this is a good movie and a more than solid Netflix Instant watch.
Jesse Ortega
Super Reviewer
Kundo: Age of the Rampant Quotes
There are no approved quotes yet for this movie.