Kurutta Kajitsu (crazed Fruit)
(1956)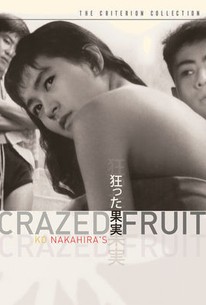 Movie Info
In this powerful drama with comic undertones from Japan, a lazy summer by the beach develops a sinister undercurrent when two brothers' (Masahiko Tsugawa and Yujiro Ishihara) hedonistic pursuits of alcohol and gambling are interrupted by the arrival of a beautiful young woman, Eri (Mie Kitahara). The younger brother quickly becomes infatuated with the girl, but the older brother also develops an attraction to her, and becomes determined to take her away -- even after learning she's already married. Controversial upon initial release for its portrayal of delinquent Japanese youth, Kurutta Kajitsu (also known as Crazed Fruit and Juvenile Jungle) has since been acknowledged as a trailblazing work in the Japanese "taiyozoku" (sun tribe) subgenre; it was the first feature for celebrated filmmaker Ko Nakahira. ~ Mark Deming, Rovi
Critic Reviews for Kurutta Kajitsu (crazed Fruit)
Audience Reviews for Kurutta Kajitsu (crazed Fruit)
What a fascinating film this is. Elements of it surprised me for 1956, and in particular for a Japanese movie. It seems to me a forerunner of the French New Wave, and that this archetypal 'Sun Tribe' effort represents an even bigger departure from traditional Japanese cinema at the time than those films would be to the French. No wonder François Truffaut was such a fan of it. The story is straightforward - two brothers fall for the same woman - but this is a film about tone, and context. Everything about it screams post-war, disaffected youth. A group of young men are bored, critical of traditional ways, and looking for good times - and young ladies. The younger of the two brothers (Masahiko Tsugawa) has an innocence about him, and falls for a pretty woman (Mie Kitahara) without realizing she's already married. The drama deepens when his older brother (Yujiro Ishihara) begins putting the moves on her behind his back. The openness with which Kitahara's sexuality is displayed is a little shocking, though there is a grace to it, and it's refreshing to see. She deceives her American husband, and enjoys being the center of attention at a party. With the younger brother she needs to provide encouragement for him to make love to her, in one scene moving his hands up on to her breast. With the older brother, she gives way to his forceful overtures, even after saying 'no' initially. If that sort of thing is a trigger to you, you may want to avoid this one, as it also has the young men competing early on to see who can bring the hottest girl to a party, and other testosterone-fueled chatter. In general, the characters are hard to like, which may also be a turn-off. On the other hand, that's part of the point, and the film shows a reckless and sexually carefree youth in ways that are less inhibited than Hollywood at the time. All of the principal actors turn in solid performances, and Masumi Okada is quite debonair in a supporting role. Mie Kitahara is quite pretty, and it's interesting that she would marry Ishihara, the actor who plays the older brother, just four years later. There is a little unevenness in the shots director Kô Nakahira captures - some are just beautiful, while others seem low-budget - but it's an impressive first film, and all the more so as it was a few years ahead of the French New Wave (e.g. Chabrol's Le Beau Serge (1958), Truffaut's 400 Blows (1959), Godard's Breathless (1960), etc). It seems to me the film ought to be better known.
Antonius Block
Super Reviewer
½
[font=Century Gothic]"Crazed Fruit" starts with brothers Natsuhisa(Yujiro Ishihara) and Haruji(Masahiko Tsugawa) going to the beach for a day of water skiing, followed by hanging out at their friend Frank's(Masumi Okada) place. The gathering consists entirely of young men with the exception of Michiko(Eiko Higashitani) who Frank brought along. Bored, they invent a game of women poker with each men being tasked to bring three women to a party that night. Haruji trumps all of them by bringing Eri(Mie Kitahara), even outdoing his older brother.[/font] [font=Century Gothic][/font] [font=Century Gothic]"Crazed Fruit" is a subtly potent take on loyalty and the youth culture backed by a vibrant jazz score. During the summer, the characters relax and party without their parents to guide them. Left to their own devices, they stumble into adulthood, making mistakes as they go. At the same time, their view of women change from flirtation to love.[/font]
½
This Film is from The Criterion Collection. Black & White, Its about a young shy basically Virgin Teen who meets and falls head over heels for a 20 year old girl who is married and also having sex with his older brother, Dam older brothers, mine did the same to me. Anyway shows in the end its not nice to screw over little brother. I enjoy most films from the Criterion Collection, but this one just didn't hit the spot, but filming was good.
Bruce Bruce
Super Reviewer
Kurutta Kajitsu (crazed Fruit) Quotes
There are no approved quotes yet for this movie.