La Vallée (The Valley)
(1972)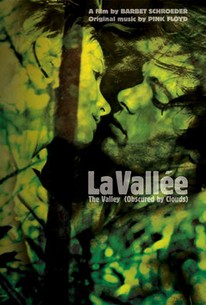 AUDIENCE SCORE
Critic Consensus: No consensus yet.
Movie Info
An early film by director Barbet Schroeder, La Vallée stars Bulle Ogier as the wife of a diplomat who embarks on a journey through the jungles of New Guinea in order to locate a rarely seen type of bird feather. During the course of her quest, she meets up with a group of free-spirited hippies who are seeking their own personal Shangri-la. She becomes involved in their alternative lifestyle; however, their idea world comes crashing down when they begin to interact with a local native tribe. Future Oscar winner Nestor Almendros's cinematography and the counter-culture attitudes helped make this film a success in art-house theaters. ~ Perry Seibert, Rovi
Rating:
NR
Genre:
, ,
Directed By:
In Theaters:
On DVD:
Runtime:
Critic Reviews for La Vallée (The Valley)
All Critics (4) | Fresh (1) | Rotten (3)
Schroeder is more infatuated with than perceptive about the compulsion to search for paradise ...
the background scenery is strong enough to save former hippies and sixties people from embarrassment

It is a film with a lush visual element and ambience, and with little substance.

Not Coming to a Theater Near You
Audience Reviews for La Vallée (The Valley)
"La Vallée" was Barbet Schroeder's 1972 follow-up film to "More" and is especially notable because of it's soundtrack music by Pink Floyd, a kind of trance-rock, later released as the album "Obscured by Clouds." It is the story of Vivian (Bulle Ogier), the young wife of a French diplomat, who while shopping alone for tribal artifacts in Papua/New Guinea meets up with Olivier (Michael Gothard) and a small band of (hippie) explorers who claim to be able to put her in contact with providers of the rare plumage of the Bird Of Paradise, which has been hunted to near extinction. Trafficking in the colorful feathers is illegal but a few are known to be still available in remote interior outposts. The hunt for the exotic and beautiful feathers is eventually subsumed into a greater search, when Vivian agrees to accompany the band of free-spirited wanderers into the mountainous interior of the island where the leader of the group, Gatean (Jean-Pierre Kalfon), hopes to find "the valley," a legendary, perhaps nonexistent, paradise from which he claims that, if it has ever been found, no one has ever returned. Through the days of journeying, there are encounters with remote inhabitants portrayed (in improvised footage) by members of a real New Guinea tribe. Vivian is introduced to experiences of free sex, natural drugs, nature worship, and vague utopian philosophy that seems to involve mainly the shedding of all vestiges of western mores and civilized conduct. The obviously real slaughter of pigs for a collective aboriginal feast is a disturbing scene - it tells us the director was stretching for verisimilitude and gives us an indication that this fable is hardly a fairy tale. As the group's exotic adventures continue, beautifully photographed by award-winning cinematographer Nestor Almendros, they climb ever higher into the mountains, first surrendering their land rover for horses, and then the horses for an arduous trek on foot. Eventually they are lost in mist on a clouded mountaintop, exhausted and without any remaining food and water. The film ends in a revelation which may be more mystical than real and as the pulsating Pink Floyd music plays us out, one is reminded of the old adage that the journey is sometimes greater than the destination. I cannot call "La Vallée" classic cinema, but the use of exotic locale, the cinema verité style, and the symbolism of the story make this film a curiosity at least, that now, half a century on, reminds us of a time when turning on and tuning out was considered an act of brave artistic exploration.
Wayne Schenewerk
An improvement over Schroeder's More in almost every way. Still, the movie does get incredibly dull at times, especially during the festival scene.
Martin Teller
Another movie that proves how stupid hippies are. The Pink Floyd soundtrack was highly underrepresented.
Curtis Lilly
Super Reviewer
La Vallée (The Valley) Quotes
There are no approved quotes yet for this movie.
Discussion Forum
Discuss La Vallée (The Valley) on our Movie forum!