Lady of Burlesque
(1943)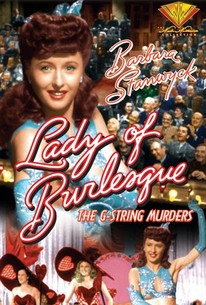 Movie Info
Barbara Stanwyck shines in her second portrayal of a showgirl in less than two years (the first was in Howard Hawks' Ball of Fire in 1941). In Lady of Burlesque -- which, at times, has a Hawksian edge to the dialogue -- she portrays Dixie Daisy, a striptease artist at a Broadway theater in New York at the end of the 1930s. In the course of fending off the unwanted advances of brash comic Biff Brannigan (Michael O'Shea), with whom she is teamed in several numbers, and staying clear of the dressing room feuds of her fellow dancers -- including a very nasty dispute between Dolly Baxter (Gloria Dickson) and Lolita La Verne (Victoria Faust) -- she finds herself up to her neck in trouble when one of the women is found strangled with her own G-string. The police don't know what to make of it, especially as the victim was already dying of a fatal dose of poison, which means that there are two murderers somewhere in the theater; and when a second woman turns up strangled inside a prop that Dixie was supposed to be hiding in onstage, she looks like a good suspect. Between the backstage comedy-drama, and the songs, dances, and on-stage comic routines, with the police breathing down both their necks at different times, Dixie and Biff manage to solve the mystery and find each other in this briskly paced, funny, yet amazingly gritty comedy-thriller. Lady of Burlesque was allowed to fall out of copyright in 1971, and since then it was seen in substandard editions until the May 2001 DVD release from Image Entertainment.
Critic Reviews for Lady of Burlesque
Audience Reviews for Lady of Burlesque
½
Although Babs had her some little personal experience in the burlesque game, and though she gives it her "that's show business!" all here (there's one scene she dances onstage that'd play any modern day medium ya got) she cannot save this "backstage at the burlesque"/murder whodunit that suffers from a screenplay that, while quick with the witty one-liners, unfortunately plays fast and loose with the intended conclusion.
Kevin M. Williams
Super Reviewer
½
An errant film with very little going for it except that at the time it was supposed to be shocking. It doesn't have much else to back it up except for the fact that it is led by none other than Barbara Stanwyck, who plays the beautiful and bodacious Dixie Daisy who is a burlesque headlining performer at a striptease theater called Old Opera Theater. Much of the film showcases inferior numbers from the singer and dancer, as well as comedienne, with many scenes backstage to show the voluminous costumes of her counterpart actresses. The film itself mostly takes place in the theater, and doesn't try to explore the characters or their performances as much as it should have. Everyone, including the leads, are so two dimensional and drab, a hard feat to accomplish in a film about striptease artists. The film soon varies into hard boiled detective thriller, but never is smart or intriguing enough to be true noir. Instead it stumbles on clumsy dialogue and plot devices which only serve to lengthen this film into ninety minutes. The humor is even humdrum, as this was in the days of the Hays Code and stays mostly family friendly throughout. If it had been as bawdy as a Mae West, really this film would have sizzled, but Stanwyck is given very little to work with. The only adult content is a hinted affair between the manager and a dancer who was blackmailing him, and the fact that several girls are being strangled to death with G-strings. The book that this was based upon was written by Gypsy Rose Lee, which doesn't give it any prominence and actually serves to cheapen it all the more. Stanwyck had earlier portrayed a performer in Ball of Fire, and in that film there was a lot more production value, better music, and more genuine a character with great humor. Stanwyck started in this line of work and it only makes sense that she would go back to it time and again in films, but this was just not the shocker it was meant to be, and in that, it suffers as a dull picture.
Spencer S.
Super Reviewer
Saucy little mystery with a great collection of 40's blond wisecracking dames and of course the great Stanwyck. Even the usually vapid O'Shea is more animated and entertaining than his norm, this is probably his best screen performance.
Lady of Burlesque Quotes
There are no approved quotes yet for this movie.