Lake of Fire
(2007)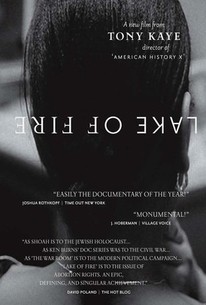 TOMATOMETER
AUDIENCE SCORE
Critic Consensus: Lake of Fire's engaging interviews and powerful black-and-white visuals make for a riveting and honest documentary about a very controversial topic.
Movie Info
Ever since Roe v. Wade, the United States has been deeply divided on the issue of abortion. In that landmark case, an unmarried pregnant woman was refused an abortion in Texas and, with the ensuing judicial challenge, won American women the right to safe, legal abortions. Ever since, proponents and opponents have lined up on either side of the issue, launching verbal abuse - and worse - at each other. As the religious right has increased in size and power in the past decade, the issue has become even more divisive - and violent. "Lake of Fire" is unquestionably the definitive work on the subject of abortion. Shot in luminous black and white, which is in fact an endless palette of grays, the film has the perfect esthetic for a subject where there can be no absolutes, no "right" or "wrong." It gives equal time to both sides, covering arguments from either extremes of the spectrum, as well as those at the center, who acknowledge that, in the end, everyone is "right" - or "wrong." With graphic images of termination procedures and their aftermath, the film endeavors to show abortion's physical and psychological reality--to make clear what exactly is at stake. The film's title comes from one person's description of what awaits abortionists in hell. It is a brave film, even a monumental one. And, whatever you believe now, you are certain to think differently after seeing it.
News & Interviews for Lake of Fire
Critic Reviews for Lake of Fire
Audience Reviews for Lake of Fire
Lake of Fire is graphic documentary on abortion directed by Tony Kaye (American History X, Detachment). It's journalistic reporting showing both sides. The interviews are with doctors, rednecks, and everything in between. It showed graphic images of legal and back alley abortions, that disturbs anyone on either sides. I'm still pro-choice and pro-life people will still be pro-life. It's more historical than scientific, which is fine, but I didn't learn many new facts. Also the run time is too long at 152 minutes, in that amount of time everything got repetitive and already said.
Daniel Dolgin
Super Reviewer
'Lake of Fire' is incredibly difficult to watch at moments, specifically the images of the abortion process or pictures of women who unsuccessfully tried to perform an abortion on themselves, but its one of the best documentaries I've ever seen. It shows the wide range of beliefs pretty favorably ranging from sane to crazy and while it slightly leans in favor of the pro-choice movement, its still one of the most unbiased portrayals of the abortion issue that any filmmaker has dared to make. The most important thing that the film shows us is that Americans have a very hard time with rational debate and discussion regardless of their opinion or political affiliation.
Alec Barniskis
Super Reviewer
An epic, nearly 3 hour documentary spanning over the course of 15 years about the highly controversial subject of abortion. It doesn't shy away from difficult-to-look-at images: it shows an actual abortion taking place as well as the remains of the aborted 5-month old fetus, it shows the bodies of Doctors gunned down by fanatics, and it shows pictures of the bodies of women who tried to give themselves "coat hanger abortions". Let me get back to the abortion shown, it's graphic and pretty hard to take, and yet, anyone who's pro-choice needs to see this and then ask themselves if they still feel the same. It takes all denial out of the supporters mind, they can't pretend it's "just a mass of cells" anymore. So, the question is no longer, "is it a human life?" or "is it a baby?", but what are the consequences of this child being born how will society deal with it? The film points out the hypocrisy of conservatives who in one breath will condemn abortion but in the other vote against sex education, birth control and welfare programs (apparently they're only concerned with babies before they're born). Being against birth control is an especially telling sign showing that many who are pro-life are more importantly anti-sex. Of course the film also focuses on the fanatical who whip their followers into a frenzy, and the consequences of that frenzy when one of their followers is unstable, showing the murder of Dr. Gunn among others. Of course, Doctor killers and fire bombers are a fringe group, but it's amazing how far-reaching their influence can be (when they show pictures of republican presidents with those who would later kill, it's especially chilling). Abortion is never painted in a glamorous light, and it's certainly not enjoyable for a woman to go through one. It's something no woman goes into lightly. "Lake of Fire" doesn't settle any arguments, it makes them and lets the viewer decide.
Devon Bott
Super Reviewer
Lake of Fire Quotes
There are no approved quotes yet for this movie.