Lala Pipo: A Lot of People (Lalapipo)
(2009)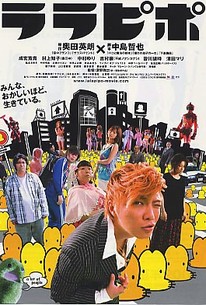 Lala Pipo: A Lot of People (Lalapipo) Photos
Movie Info
The often bizarre sexual attitudes and adventures of six interrelated characters in Tokyo form the basis of this offbeat comedy from director Masayuki Miyano. Kenji (Hiroki Narimiya) works in the lower levels of the Tokyo sex industry, and is looking for new talent as he struggles to make a living running everything from a massage parlor to "adults only" karaoke. Kenji thinks he's found a promising property in Tomoko (Yuri Nakamura), a pretty if timid girl working in retail, and as they strike up a romantic relationship, he looks for ways to use her beauty to his advantage. At the same time, Kenji is also managing the career of Yoshie (Mari Hamada), an adult actress who is older than most of her peers and has a few secrets she doesn't care to share with her business partner. Living in the same building as Kenji and Tomoko is Hiroshi (Sarutoki Mingawa), a slobby geek who gets excited by the sounds of his neighbors' lovemaking and has frequent arguments with his penis, which talks. Eventually Hiroshi leaves his flat long enough to meet Sayuri (Tomoko Murakami), a hefty gal who has her own unusual career in the erotic entertainment business. And Koichi (Yoshiyuki Morishita) is a mild-mannered guy who is shy with women but has a rich fantasy life in which he's a sexual super hero. Lalapipo: A Lot Of People received its North American premiere at the 2009 New York Asian Film Festival. ~ Mark Deming, Rovi
Critic Reviews for Lala Pipo: A Lot of People (Lalapipo)
Audience Reviews for Lala Pipo: A Lot of People (Lalapipo)
Very original story about a group of people who are loosely connected with sleaze being the underlying theme. The characters include the charming, but dishonest pimp. The girl he lures into the adult film world. The mature porn actress who is hiding a secret at home. The chubby fetish girl. It's all very surreal and quite amusing in places. Definitely not as heavy as you might think from the subject matter. Actually quite kitschy. The time went very fast watching this one. Honestly didn't know what to expect next.
Nicki Marie
Super Reviewer
I don't think this'll be a particularly long review as I didn't really think much of this movie. Personally I thought the film's biggest problem was its uneven tone. At first the movie is pretty much a sex comedy. Then, about halfway through, it becomes a drama. It was pretty jarring because, while the comedy wasn't great, it had some funny moments here and there. And then they just switch it up to a drama, for no real reason whatsoever. Because the movie looks at 6 characters, none of them really are really that engaging for a viewer to get emotionally invested in their stories. That's a problem, because that's the only reason you'd make the switch to drama. You want people, somehow, to care for these characters. This is especially tough when you've not given us a reason to do so already. There's a good idea here because the characters are lonely and sex is a way to connect with another human being. But the movie doesn't really do anything with this theme. I think the movie needed about as half as many characters as it had. And it also needed to have better developed characters, so you could at least care about them. It has some funny moments, but overall this movie completely misses the mark. It's not a good sex comedy nor is it a good drama.
Jesse Ortega
Super Reviewer
Coming from a short story collection by Hideo Okuda, Masayuki Miyano's Lala Pipo: A Lot of People becomes a mature stylish comedy.
After a catchy opening sequence the story delivers itself in 6 parts, each following a different character. The film dazzles with its quirky characters and even with some of its eccentric style, while the story consistently pushes forward.
Each of the stories intertwine into a whole, although some more than others, and the lengths for each do vary. Ultimately, the 90 minutes do go by as there is a lot that this film covers during that time frame. All of the characters revolve around sex in some way, whether it be hostess bars or even porn movies, so there is a lot of sexuality and sexual content, but without getting to graphic. The change in characters and style of the picture do help alleviate the staleness of the adult oriented subject matter.
Hiroki Narimiya, Yuri Nakamura, Mari Hamada, Tomoko Murakami, Sarutoki Minagawa, and Takashi Yoshimura successfully give the main characters life, as they range in age as well as physical properties.
By the end, Lala Pipo: A Lot of People feels more like a whole rather than a bunch of segmented stories and is a comedy worth viewing.
Lala Pipo: A Lot of People (Lalapipo) Quotes
There are no approved quotes yet for this movie.