Land of Silence and Darkness (Land des Schweigens und der Dunkelheit)
(1973)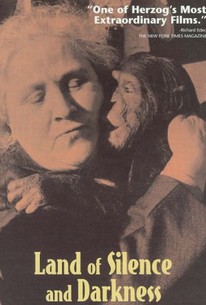 Land of Silence and Darkness (Land des Schweigens und der Dunkelheit) Photos
Movie Info
This moving documentary by director Werner Herzog (Fitzcarraldo, and Aguirre, the Wrath of God) enters into the world of Fini Strabinger of Bavaria, who is both deaf and blind. Fini has made a career of helping others who are similarly afflicted, teaching them sign language and taking them on field trips to gardens and touching zoos. Told in an unaffected, homey style, this film uses a minimum of narration as it movingly explores the lives of these people. One of the film's highlights is footage showing Fini's reactions to her first airplane flight.
Rating:
NR
Genre:
, ,
Directed By:
In Theaters:
On DVD:
Runtime:
Studio:
Referat für Filmgeschichte
Critic Reviews for Land of Silence and Darkness (Land des Schweigens und der Dunkelheit)
Audience Reviews for Land of Silence and Darkness (Land des Schweigens und der Dunkelheit)
Even in his earliest documentaries, Werner Herzog displays an inquisitiveness and sensitivity towards his subjects and that's especially true with his insightful "Land of Silence and Darkness." It is about deaf-blind people(they can see colors and hear static but that's about it) who are cut off from the outside world, only able to explore it and be communicated through touch with a companion.(There is a glove demonstrated as a guide to this form of language.) Those who were cursed to be born this way have a trouble with abstract concepts like night and day and to whom even water can seem terrifying. That exploration is only a set-up for the story of Fini Straubinger who became deaf and blind when young, as a result of injuries suffered from a terrible fall down a flight of stairs years before. After ending her own personal isolation, she travels with her fellow deaf-blind people to a botanical gardens and zoo and works tirelessly to end the isolation of others, as she brings awareness to a wider world in asking for better conditions.
½
[center][img]http://www.wernerherzog.com/main/de/html/films/films_details/images/f05.jpg[/img][/center] (DVD) (First Viewing, 1st Herzog film) I had a bad day today-- one of those days where nothing in particular went wrong, but everything just seemed to have this dark, ominous tint to it. So I watched Werner Herzog's LAND OF SILENCE AND DARKNESS, a documentary centered around Fini Straubinger, an elderly German lady who was rendered both deaf and blind by the time she was eighteen following a childhood accident. It was inspiring to watch this brave woman not only toil to better herself and continually expand her worldview through her her sense of touch, but take an active role by reaching out to help other people with the same dehabiliting disabilities she suffered from. Which in turn, only made me more down about my own day. Here I've been moping around all day for reasons I can't even pinpoint, and there's people all around me, all over the world dealing on a daily basis with issues and problems I can't even comprehend. Nothing like a good strong dose of reality to make one feel even more guilty. And depressed. That said, LAND OF SILENCE OF DARKNESS is a really excellent film. What I ended up most appreciating about it is that it doesn't manipulate or pull punches, Herzog simply aims his camera and forces the viewer to face directly whatever is being played out in front of it. Often shots and images would linger on uncomfortably long, but after a while, that seemed the point. With documentaries simply blitzkriegs of bits of information done up with flashy editing, it is rather startling to just have to sit and be forced to witness a harsh reality face to face without any prettying up. But isn't that what a documentary [i]should[/i] do? Force the viewer to recognize and ponder something outside him or herself? There's this one sequence that is just sublime, however, that I can't get out of my mind. Near the beginning of the film Fini and her friend Miss Julie (who is also deaf and blind) go up in an airplane for the first time. The expressions of sheer happiness are so evident on their faces, despite the fact that they can't see the astounding snow-capped vistas below them, but only sense the sensation of being in the air. As they sign into each others hands frantically and clap their hands in delight just at the fact of being there was simply astounding, devestating even. It was the kind of wake up call that I needed today, something to pull me outside myself for a few minutes and realize that there's much more going on out there than just me. Tomorrow's going to be a better day.
Jesse Last
½
[center][font=Times New Roman][size=4][color=white][img]http://i126.photobucket.com/albums/p103/whatever8765309/landofsilenceanddarkness.jpg[/img][/color][/size][/font][/center] [center][font=Times New Roman][size=4][/size][/font] [/center] [font=Times New Roman][size=4][color=white]Summary (from IMDB): Through examining Fini Straubinger, an old woman who has been deaf and blind since her teens, and her work on behalf of other deaf-blind people, this film shows how the deaf-blind struggle to understand and accept a world from which they are almost wholly isolated.[/color][/size][/font] [center][img]http://alsolikelife.com/images/images2007/losad2.jpg[/img][/center] [font=Times New Roman][size=4][color=white]Werner Herzog's first (I think) documentary is more of a warmup for the superb documentaries he would develop later. Honestly, much of the film was dull, and although I do feel for people in this situation, it was presented in a way that was hard to connect. That is, until the last 20 minutes. Once we are introduced to the 22 year old blind-deaf boy, the whole thing changed for me. His story and the story following were amazing. With the first we really see Herzog's usual study of isolation and its effects or non-effects on human nature. And with the second we notice Herzog beautiful poetic abilites as a filmmaker. Had the first hour not been dull as a board, this movie is 9/10ish. But, not as is.[/color][/size][/font]
Chris Weseloh