The Landlord
(1970)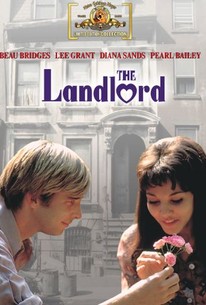 Movie Info
Wealthy, insensitive young Beau Bridges buys an inner-city tenement, planning to evict the present occupants and construct a luxury home for himself. But once he ventures into the tenement, he grows quite fond of the low-income ethnic types who dwell within. He even kicks over the traces of his WASP upbringing by romancing black tenants Diana Sands and Marki Bey. Though essentially a comedy, The Landlord offers several painful truths about ghetto existence. Essentially, Beau Bridges acts as the audience's "eyes:" we learn as he learns, we grow as he grows. The Landlord represents the first directorial effort of Oscar-winning film editor Hal Ashby.
Critic Reviews for The Landlord
Audience Reviews for The Landlord
Hal Ashby's debut film is very honest, witty and funny. The dramatic twist is poignant, though for me it disembalances the perfect farcical tone it had at first.
Pierluigi Puccini
Super Reviewer
This comedy is very funny, but at the same time tries to get across the fact that people of different racial backgrounds can get along and live together. I really enjoyed this movie.
One of the first early gigs featuring Louis Gossett,Jr,this movie was Hal Ashby's directorial debut and it became one of the top ten films of 1970 and for a very good reason. This was also produced by Norman Jewison who also served as executive producer. This was a film that starred Beau Bridges in a excellent performance as a young man who buys a condemned building in a black ghetto in the Park Slope section of Brooklyn. The fine cast includes Lee Grant,the great Diana Sands,and also the dramatic debut of the great Pearl Bailey. With some great music from The Staple Singers makes this a joy to watch.
Mister Caple
Super Reviewer
The Landlord Quotes
There are no approved quotes yet for this movie.