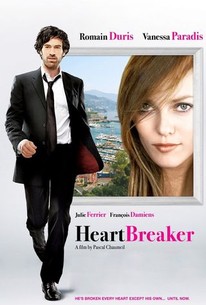 Heartbreaker
2010, Romance/Comedy, 1h 45m
79 Reviews
10,000+ Ratings
What to know
critics consensus
While definitely on the fluffier side of French comedy, Heartbreaker benefits from never taking itself too seriously -- and from the performance of the ever-charming Romain Duris. Read critic reviews
Where to watch
Buy
Rent/buy
Rate And Review
Movie Info
Alex (Romain Duris) is a successful entrepreneur in a business he himself pioneered: Hire him, and he'll seduce any woman you want into falling in love with him, thus breaking her out of an existing relationship, after which he'll disappear. When a wealthy businessman asks him to break up his daughter's relationship before her wedding in 10 days, it sounds tough but doable -- that is, until he meets the bride, Juliette (Vanessa Paradis), who may be the first woman to resist his charms.
News & Interviews for Heartbreaker
Audience Reviews for Heartbreaker
Nice French rom com. Story was unusual, and the two leads had chemistry. Better than some American ones I have watched recently!

Pursued by creditors and helped by his married sister, a man is hired to break up a happy woman's wedding. Stuck between screwball comedy that allows Alex to emerge unscathed from a high-speed collision with a car and honest romance that features Alex and Juliette staring longingly into the sunset, Heartbreaker is a mixed bag that is charming and funny when it's good and insufferably sophomoric when it's bad. Its understanding of relationships seems drawn from Cosmo articles as the film expects us to be that a few faked tears will destroy a relationship, but the stars, Romain Duris and Vanessa Paradis, are able to make badly written scenes plausible. Overall, I liked Heartbreaker in spite of itself.

Charming. Yes, that is a good word to describe this one. Highly improbable situations and a highly predictable story, but this film still managed to enchant, and yes, to actually prompt laughter! Romain Duris as Alex, the professional relationship buster, and Vanessa Paradis as Juliette, his latest target, sparkle in this French romantic comedy. The supporting cast is nearly perfect as well. The dialog crackles, the villains are drawn largely (and physically large) and the action is practically non-stop. There is a lot going on, but the crux of the story is about the sparks between the two principals. A lovely, lively, ultimately entertaining film.

In "Heartbreaker," Alex(Romain Duris) is the front man for a business that he runs with his sister Melanie(Julie Ferrier) and brother-in-law Marc(Francois Damiens) that specializes in breaking up unhappy couples, even if they are not aware of it themselves. As successful as they are, Alex is deeply in debt due to his taste in expensive suits. And Berber villages do not build themselves. So against their better judgment, they take on the job of breaking up Juliette(Vanessa Paradis) and Jonathan(Andrew Lincoln), despite the fact that he is so perfect that they all want to date him. By contrast, she has a gap in her front teeth and loves George Michael and "Dirty Dancing."(Sorry, but I have not been able to get those two songs out of my head the last couple of days.) Regardless, Alex has a week to work his magic in Monaco before their wedding. "Heartbreaker" is a moderately appealing movie that works its familiar charms well. Romain Duris makes a good lead, as he is sexy enough to pass as god's gift to women, ironically playing a character who does not live up to the full potential of the characters he plays. Admittedly, the 'seduction by liberation' business is ethically dubious.(As Marc crudely puts it, they seek to open a women's eyes, not her legs.) Even though I am not thrilled about outside intervention except in the case of violence and abuse, I suppose it could work, assuming the woman has never been exposed to true happiness before. In any case, what is truly important are the crazy things we do for love.
See Details