Heartbreaker (L'Arnacoeur)
(2010)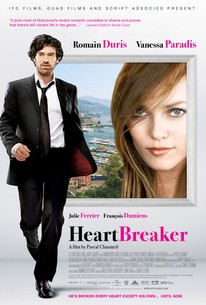 TOMATOMETER
AUDIENCE SCORE
Critic Consensus: While definitely on the fluffier side of French comedy, Heartbreaker benefits from never taking itself too seriously -- and from the performance of the ever-charming Romain Duris.
Heartbreaker (L'Arnacoeur) Photos
Movie Info
HEARTBREAKER is an action-packed romantic comedy pairing two of France's biggest young stars: Romain Duris (THE BEAT THAT MY HEART SKIPPED, PARIS) and actress/singer Vanessa Paradis (GIRL ON THE BRIDGE). A smash hit in France, the film was also featured at the Tribeca Film Festival. Charming, funny and effortlessly cool, Alex (Duris) is a professional heartbreaker who for a fee can turn any husband, fiance or boyfriend into an ex. Alex has one ironclad rule: He only breaks up couples where the woman is unhappy. His latest job will put that rule to the test. The target is Juliette, a beautiful heiress who is set to marry the man of her dreams. With ten days until the wedding, Alex has been hired by her father to carry out his most daring seduction yet that risks him being caught by his ruthless personal creditors, angry exes, and the beautiful and independent Juliette herself. But worst of all, will he discover to his own cost that when it comes to love, the perfect plan doesn't exist? This fall no one will be able to resist HEARTBREAKER. -- (C) IFC
News & Interviews for Heartbreaker (L'Arnacoeur)
Critic Reviews for Heartbreaker (L'Arnacoeur)
Audience Reviews for Heartbreaker (L'Arnacoeur)
Nice French rom com. Story was unusual, and the two leads had chemistry. Better than some American ones I have watched recently!
Nicki Marie
Super Reviewer
Pursued by creditors and helped by his married sister, a man is hired to break up a happy woman's wedding. Stuck between screwball comedy that allows Alex to emerge unscathed from a high-speed collision with a car and honest romance that features Alex and Juliette staring longingly into the sunset, Heartbreaker is a mixed bag that is charming and funny when it's good and insufferably sophomoric when it's bad. Its understanding of relationships seems drawn from Cosmo articles as the film expects us to be that a few faked tears will destroy a relationship, but the stars, Romain Duris and Vanessa Paradis, are able to make badly written scenes plausible. Overall, I liked Heartbreaker in spite of itself.
Jim Hunter
Super Reviewer
½
Directed by Pascal Chaumeil, Quad Productions, 2010. Starring Romain Duris, Vanessa Paradis, Julie Ferrier and Andrew Lincoln. Genre: Comedy, Romance Question: Ladies, this question goes out to you. What could a guy do that would make you fall in love with him? I know a hard question to answer. I have my thoughts but I am going to keep those to myself. However, I just watched a film called Heartbreaker (I know the title doesn't evoke much confidence in finding true love) and found that sometimes it's what we do that makes the guy fall in love with us first. When that happens, we allow the thought to be possible and then all bets are off. We fall and we fall hard! Heartbreaker is a French film (L'arnacoeur). I know, not my typical movie genre, but I might have mentioned I am expanding my movie tastes. Plus, I am finding it easier to read subtitles and still see and enjoy the movie. There weren't any movies available at the time at the theatre yesterday that I wanted to see. I waited until the evening to check my Netflix Instant Play queue. Heartbreaker was on my list. It was recommended to me after I posted my last foreign film - Sarah's Key (a French film) so it was on my queue. I watched the preview - yes, I did - and I was intrigued. I remembered it was a comedy (and a romance) and I could really use a comedy these days so I hit PLAY. So, here's the gist: Alex Lippi (played by Romain Duris) is a break-up artist. People hire him to find the doubt that is already there within a woman so she will break-up with her (usually deadbeat) boyfriend. His job is not to start dating or have them fall in love with him - just make them realize they are with the wrong person. The opening scene(s) showed dozens of women kissing this guy (break-up artist) who just happens to cry in front of them and tell them that they made him feel alive again. Voila! Break-up. The rest of the film shows Alex and his team hired to break-up a relationship only 10 days before the wedding. Usually that is not enough time but they accept the challenge. Ok - no more details - you have to see it for yourselves. I will say once this part of the movie started I really enjoyed it. As I was watching this film (and reading) I discovered that I was smiling through a lot of it. Sometimes I was even giggling or doing whatever odd facial and hand movements I do when I can't believe I saw what I just saw. You know what I mean, right? Well, if not - just trust me there are some funny parts to Heartbreaker. So, let's discuss the main actors: Romain Duris. This was my first movie of his but I have feeling it won't be my last. His performance was intriguing to say the least. Although I did not find him all that attractive he had a certain charm and sex-appeal. My focus sharpened whenever he was on screen - which was for the majority of this movie. When there were moments of tender thoughts I felt what he felt. There are only of few of those but he sucked me right in. On the flip-side - his comedic act was a treat to watch as well. Plus, there is one scene that I think those ladies who grew up in the 80's will enjoy - yes, I was one of them. Juliette Van Der Becq (played by Vanessa Paradis) was the woman he was hired to show her the error of her ways. Some of you might recognize her; she is Johnny Depp's girlfriend. As with Romain Duris, this was my first time seeing her act as well. I may sound a little biased or heavy-handed here but I found her performance to be a bit on the weak side as compared to Romain Duris. She is supposed to be playing this damaged (although we don't know why she is damaged for most of the story), beautiful, wealthy women who is marrying what appears to be the perfect man. So, what's the problem? I know now but it took a while to get there. So all-in-all I liked Heartbreaker. My first French comedy but I have feeling it won't be my last. My favorite thing: The dance - I won't describe what that means but I loved it! My least favorite thing: That I was jealous that it was filmed in Monaco..I so want to see that city. Rating: Couldn't find a consistent rating but there is cursing and a little nudity. Length: 105 Minutes Rating: 7 out of 10
Tired of Previews
Super Reviewer
Heartbreaker (L'Arnacoeur) Quotes
| | |
| --- | --- |
| Alex: | I break relationships, not hearts. |
| | |
| --- | --- |
| Alex: | I break relationships, not hearts. |
| | |
| --- | --- |
| Alex: | And to attain our goal.....anything goes. |
| | |
| --- | --- |
| Alex: | I break up couples for a living. |