The Last Broadcast
(1998)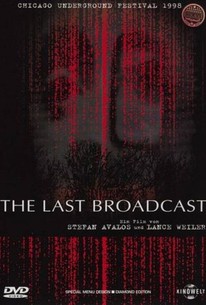 The Last Broadcast Photos
Movie Info
An absorbing, low budget thriller similar to Errol Morris' documentary The Thin Blue Line, The Last Broadcast was dubbed the first "desktop feature film" -- having been shot on inexpensive digital cameras and edited using home computers for the bewilderingly low price of $900. The effort landed filmmakers Steven Avalos and Lance Weiler in a November 1997 Wired Magazine cover story, where they were placed among the 25 people most likely to revolutionize the entertainment industry. Though constructed like an investigative documentary, The Last Broadcast is an assemblage of fictional yet realistically staged interviews, found video sequences, and contemplative voice-overs by the film's "director" David Leigh (David Beard), who claims to be making the film as a means of investigating the brutal murders of Steven Avkast (Steven Avalos) and Locus Wheeler (Lance Weiler), hosts of the small-town public access cable show "Truth or Fiction?". Leigh creates a complex and horrific story out of the show's final episodes, detailing Avkast and Wheeler's half-baked plan to multicast a special episode of "Truth or Fiction?" live on cable TV and the Internet. Prompted to investigate the legendary "Jersey Devil" by an anonymous fan, Avkast and Wheeler setup camp in the New Jersey Pine Barrens, recruiting local sound engineer Rein Clackin (Rein Clabbers) and "psychic" Jim Suerd (Jim Seward) for the event. Only Suerd makes it out of the woods alive, making him the prime suspect for a police investigation into the murders. When the "Truth or Fiction?" tapes (or what is left of them) are viewed by the police, Suerd's undeniably violent temper and unstable personality lead to his conviction for the murders. Leigh's film investigation, however, points in a different direction. As damaged video tapes of "The Last Broadcast" are painstakingly restored, the story of what really happened that night in the Pine Barrens begins to emerge. The Last Broadcast does a lot with its very modest budget, and is part of a growing lineage of successful "found footage" horrors which includes Cannibal Holocaust (1979) and The Blair Witch Project (1999).
People Who Like this movie also like
Critic Reviews for The Last Broadcast
Audience Reviews for The Last Broadcast
½
** out of **** It's the upper end of the 1990's, and a film crew that works exclusively for New Jersey-based reality television program "Fact or Fiction" is hitting rock bottom. After a strong start, the founders are facing what looks to be cancellation and bankruptcy. They've simply ran out of good ideas, or anything to talk about at all; and when it seems like they've finally settled on a single, good idea, everything just falls apart on the spot. Then, out of the blue, comes an answer to their prayers; a brilliant young man named Jim Suerd, who claims to be quite experienced with the sort of paranormal phenomena and psychic activity that tends to attract the majority of the program's audience. Jim calls into the show one day and suggests that they do an extensive coverage of the Pine Barrens - indeed located in South Jersey - and the legend of The Jersey Devil, a mythological creature and landmark in historical cryptozoology. Intrigued by this idea and how it might revive the show, the members of the crew agree to travel to the Barrens - with Jim - and return with some spooky footage. After a few days, only Jim had returned from the expedition. Everyone else was found murdered in brutally stylistic fashion, mutilated perhaps beyond comprehension. It seemed quite possible that Jim could have committed the crimes, but there are little details that create this looming aura of doubt. This is what drives the film - which opens after the events that were recorded on-camera have been filmed -, what gives it an overall purpose, and what makes it such a goddamn disappointment by the end. We learn that Jim was taken to court and imprisoned; dying only a few days after being locked up, under mysterious circumstances. This was just the beginning of what made for a rather perplexing downwards spiral of psychological proportions; and after a seemingly endless stream of interviews with loved ones and friends (in the form of his personal psychiatrist), it becomes clear that Jim might not be the killer of the crew after all. I wanted to believe that it was the Jersey Devil all along. Paranormal phenomena and cryptozoology are two things that I've loved since my early days of childhood; which is why it's so devastating to see such ideas wasted in a bland - if not entertaining - waste of time such as this. Perhaps "The Last Broadcast" would have been effective if it didn't have such a bullshit logical explanation for everything. Throughout, I found myself on the edge of disbelief and intrigue; and by the time the credits had started rolling, I was beyond pissed. What was the point of building up so much if they had intended to do so little all along? Was it supposed to be scary, suspenseful, or ominous; because the twist makes it so it isn't either of the three. I won't spoil too much, since this seems to be the kind of movie that different people react differently too (appropriately enough); but all I know is that the twist ruined everything for me just as it did for others. And think of it; I'm not the kind of guy who is easily angered by crappy twist endings. I think they can serve a purpose. Take, for instance, the film that this one is being constantly compared to; "The Blair Witch Project". To this day, I find that film absolutely brilliant in how it manipulates the audience's emotions with its realistic set-up, and finally fries our nerves with the chilling and ambiguous finale. I wanted "The Last Broadcast" to go in a similar direction - ending aside - but it took the exact opposite route and instead ends up falling flat on its stupid face. It is not, alas, a bad movie - regardless of the obvious technical shortcomings (the digital video that the film was shot on is almost proudly crappy, and this is far from a pretty looking film) - but it is still a maddeningly unsatisfying one. It's one that I wanted so much to love, but just could not. One of my rules of movie-watching is that if one ever has extensive periods of doubt in regards to the film's quality, then it cannot be called good. This could be certainly be said for "The Last Broadcast", which I liked in some instances more than I did in others. What can I say? For a movie that sets itself up to feel absolutely authentic and real, "The Last Broadcast" still feels pretty damn fake. It never captures the documentary feel that it's going for all along, you never really invest in the characters no matter how much time you're forced to spend with them, and the pacing is just so damn uneven. Also, near the end, the thing takes a hokey philosophical detour, asking us to think for ourselves on just who or what the Jersey Devil really is (it is implied throughout the film that it could have been either Jim or the Jersey Devil itself who committed the grisly crimes). I've already expressed my most extreme complaints, but as of now, they are getting in the way of everything I saw, felt, or heard in regards to this film. This is not a particularly good sensation. With a bit of luck and time, perhaps these feelings will disappear with the memories of this movie. Wouldn't that be nice?
Ryan Marshall
Super Reviewer
½
I actually found this film really engaging and it comes off as a genuine documentary. Although the format is different for a fiction film that's not comedy, I still felt myself investing in the story, probably because of the directors really trying hard to make it appear like a traditional doc and the actors were very natural. I don't know about the ending though....
Patrick Dolan
Super Reviewer
½
A clever and satirical mockumentary, dreadfully ripped off by the far inferior Blair Witch Project. The no-name cast and documentary style make it quite convincing, and it's full of clever twists.
The Last Broadcast Quotes