The Hole (Dong)
(1998)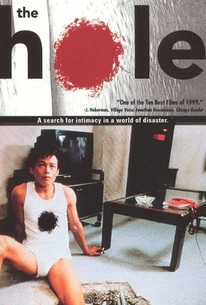 Movie Info
At the 1998 Cannes Film Festival, this Taiwanese-French drama won a FIPRESCI Award, given by international critics. Taiwanese director Tsai Ming-liang previously won top awards for his 1994 Vive l'amour (at Venice) and 1996 The River (at Berlin). High strangeness is evident in the tale, originally initiated as part of the French TV series of one-hour end-of-millennium dramas. As an epidemic spreads through Taipei, virus victims display odd symptoms. A man (Lee Kang-sheng) who runs a food store with few customers lives in a shabby building in a quarantined section, and a woman (Yang Kuei-mei) in the same building has a withdrawn existence. A plumber, checking a leak, makes a hole in the man's floor and leaves; the man then observes his neighbors through the hole. The film features four musical fantasy sequences that recall Hong Kong musical films of the '50s.
Critic Reviews for The Hole (Dong)
Audience Reviews for The Hole (Dong)
½
The musical numbers don't always fit organically within the story, but Tsai's bleak idea of a post-apocalyptic Taiwan under constant rain and in maximum literal isolation is a powerful one as he pictures modern disconnected people turning into cockroaches in the middle of garbage.
Carlos Magalhães
Super Reviewer
½
An epidemic hits Taiwan, people who suffered from the disease become cockroach like in terms of their behaviour. A plumber created a hole in a man's apartment and the man and his neighbour began to suffer from the delusions and hallucinations of the effect of the disease. The hole represented the depression in a socially planned urban environment, everyone fills it with different methods. The hole is also a musical that juxtaposed the depression with cheerful tunes.
Sylvester Kuo
Super Reviewer
like my favorite depression era cinema: bleak as all hell, with musical numbers!!
Stella Dallas
Super Reviewer
The Hole (Dong) Quotes
There are no approved quotes yet for this movie.