Last Embrace
(1979)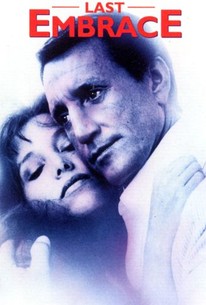 Last Embrace Photos
Movie Info
In 1979, Jonathan Demme was still a cutting-edge director and The Last Embrace was his first effort at a completely commercial assignment. Very much in the Hitchcock vein, The Last Embrace is an intense suspense film concerning Harry Hannan (Roy Scheider), a government agent recovering from a catatonic collapse after the murder of his wife. After Harry's recovery, he is back on the job, but he can't figure out whether he is suffering from self-induced paranoia or if his former employers want to kill him. These conflicting feelings are exacerbated when he forms a connection with a nervous graduate student, Ellie Fabian (Janet Margolin), whom he discovers is living in his apartment. ~ Paul Brenner, Rovi
Rating:
R
Genre:
,
Directed By:
Written By:
In Theaters:
On DVD:
Runtime:
Watch it now
Cast
Critic Reviews for Last Embrace
Audience Reviews for Last Embrace
½
An ambitious whodunit that loses steam half way through- due to both a heavy-handed plot and an almost abandonment of care for camerawork. It feels like Demme's wannabe-Hitchcock, but with hammy pulp-style acting. It's not bad though, it has some amusing moments and some really dynamic camera maneuvers in the beginning.
Jenna Ipcar
½
"Last Embrace" is an incompetently executed, wildly incoherent and overly melodramatic neo-noir thriller that's one of the dullest, most tepidly inspired pieces of cinema I've ever watched. Aside from Roy Scheider, whose performance is so over-the-top that it's almost admirable, the acting is laughably poor from the entire cast, and everything from the pacing to the direction to the lighting is painfully inept. How Jonathan Demme, Tak Fujimoto, Barry Malkin and Miklós Rózsa could get together and make sure a godawful hunk of soap opera-ish garbage is beyond me. It's an experience I hope never to endure again.
Stephen Earnest
Super Reviewer
This is a splendid little Hitchcockian thriller from Jonathan Demme. Roy Scheider plays Harry Hannan, a government agent recovering from a nervous breakdown after losing his wife in a botched attempt on his life. Fearful of further assassination attempts after being labelled a dangerous liability by his boss, Harry's nerves are shredded even further when he receives a mysterious death threat in Biblical Hebrew. Although certain characters (guilt-ridden, delicate hero - Vertigo), situations (shower scene - Psycho) and settings (bell tower - Vertigo again) are unmistakably Hitchcockian - and the movie even finds time to reference first generation Hitchcock clones like Henry Hathaway's Niagara - Demme's film is always a cut above mere pastiche because he makes little or no attempt to imitate the master's style. In place of Hitch's elegant backdrops and rigidly storyboarded perfectionism, Demme substitutes gritty locations, handheld camerawork and spontaneity. Scheider is superb as the haunted hero and Miklos Rozsa's score is simply beautiful.
Discussion Forum
Discuss Last Embrace on our Movie forum!
News & Features