Law
(1958)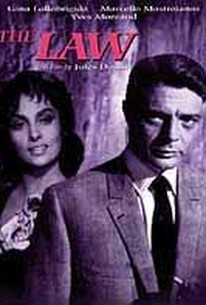 Audience Reviews for Law
½
The release notes state that the role of Marietta (Lollobrigida) was greatly expanded at the producer's request. The spitfire, Lollbrigida, dominates this film, so it's hard to imagine her role diminished.
Stefanie C
Super Reviewer
"The Law" starts with one of the citizens of a small fishing village in Italy wondering why a bird does not fly far away when it has the chance. Since it only makes it as far as the window of Lucrezia(Melina Mercouri), we know it is no idiot. Nearby, the prisoners in the jail can hear Marietta(Gina Lollobrigida) sing. Her family works for Don Cesare(Pierre Brasseur) while she tries to escapes the old man's attentions and refuses to be a servant, even to Enrico(Marcello Mastroianni), the new agronomist in town who she is interested in eventual marriage with. In the meantime, she occupies her time with getting the kids to steal a police motorbike(geez, they work quickly) which Matteo Brigante(Yves Montand) disapproves of. Directed by Jules Dassin, "The Law" is a delightfully wicked dissection of the power structure of a small town, framed by a sadistic drinking game, while still maintaining sympathy for most of the characters. Since leaving may not be an option, what's the best one can do if one stays? The movie is also helped by the charms of Gina Lollobrigida who...I just lost my train of thought. Where was I? Now, I remember. The question is who is really in charge? The police? The criminals? Or the landowner? Regardless, progress is on the way in the person of the agronomist who is about to change the way things have been done for centuries, starting with the draining of the marshes to prevent malaria, which Don Cesare opposes because he quite likes them the way they are. And then there are the women who while technically under the thumbs of the men, seek to run their own lives and create their own rules.
Law Quotes
There are no approved quotes yet for this movie.